Fall in Algonquin Park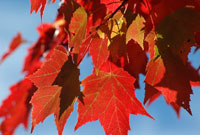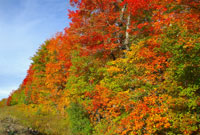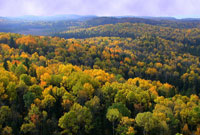 Fall is a spectacular time to visit Algonquin Park. Thousands of visitors from around the world are attracted by the outstanding fall colour viewing opportunities, but there are many things to see and do.
When Do the Leaves Change Colour?
The fall colours alone make a trip to Algonquin Park worthwhile, especially if you catch the spectacular colours from mid-September to mid-October. While hard to determine the exact peak of the Sugar Maple and Red Maple fall colour, it is typically the last week of September or the first week of October. Shortly after, the poplars (aspens), Tamaracks, and Red Oaks hit their best and put on another interesting show before giving way to a more subdued November.
The best fall colour in Algonquin Park is variable and depends on a number of factors including tree species, daylight length, temperature, moisture, etc. Check the current fall foliage reports for the latest information and predictions concerning this season's fall colour change.
Day Use in Fall
Everyone who uses a provincial park must have a valid Park Permit. Day use visitors may purchase permits at major park facilities such as the West Gate, East Gate, Visitor Centre, Logging Museum, Sand Lake Gate and Access Point Offices.
Picnicking is a popular recreational activity during the fall months. With a valid permit you may visit a picnic ground or day use area along the Highway 60 Corridor. Help protect Algonquin Park and our wildlife, including Black Bears, by minimizing your waste by using the Park's multi-stream waste management system.
Weather in Algonquin Park during the fall months can vary from summer-like conditions to early snow flurries. Come prepared by planning ahead and check the local weather forecast.
Please note that the fishing season for Brook Trout and Lake Trout concludes in Algonquin Park at the end of September. Ensure your are complying with fishing regulations by learning more about fishing in Algonquin Park.
New for 2016
Tea Lake Campground and Kearney Lake Campground are open 7 days a week as a day use picnic ground starting September 17 until October 10, 2016. A valid Park permit is required for use of these facilities. Flush toilets and running water are available at the Tea Lake Campground comfort station. Vault privies will be open at Kearney Lake Campground but not the comfort station.
A portable washroom trailer will be located in the Visitor Centre parking lot from September 22 to October 11, 2016 to reduce building congestion and enable uninterrupted bathroom cleaning.
Six wireless wireless point-of-sale (POS) terminals will be deployed at the West Gate this fall for use by Ontario Parks staff. The use of the POS terminals will enable visitors to purchase their daily vehicle permit while not having to leave and park their vehicle which can lead to traffic congestion.
Ontario Parks and Ministry of Transportation will be deploying portable variable message signs on and west of the Highway 60 Corridor. These signs will inform visitors of real time information related to traffic delays, road closures, or other important messages.
On September 20, 2016, Ontario Parks announced that Hardwood Lookout Trail, the shortest interpretive walking trail in Algonquin Park measuring one kilometre in length, will be closed on three weekends (September 24/25, October 1/2, and October 8/9/10, 2016 [Thanksgiving weekend]) "to improve visitor experience and help to address operational challenges". All other interpretive walking trails are expected to remain open offering over 65 kilometres of day-use hiking opportunities, in addition to bike trails, overnight backpacking trails, and more than 2,000 kilometres of canoe routes.
Camping
Developed Campgrounds Open in Fall
Several developed campgrounds, accessible by vehicle, close in early September but most remain open until Canadian Thanksgiving (second Monday in October). The Mew Lake Campground is the Park's only year-round developed campground suitable for late fall or winter camping opportunities.
Backcountry Camping in Fall
Algonquin Park's backcountry is open year-round. All backcountry Access Point Offices operate to Canadian Thanksgiving (second Monday in October). For information about obtaining backcountry permits after Canadian Thanksgiving (and during the winter months) contact the Park Information Office.
Algonquin Visitor Centre and Logging Museum
Algonquin Park's two museums, the Visitor Centre and Logging Museum, are open daily until the end of October (see the Events Calendar for specific operating dates and hours) offering all visitors park information, permits, plus outstanding natural and cultural history exhibits and programs.
Organized groups, such as schools, youth groups and organized bus tours, may wish to hire a naturalist guide through the Group Education Program. Individuals visiting the park may be interested in participating in unique learning opportunities through the Experience Algonquin Workshop series.
Commercial Services
Numerous businesses, both inside and outside Algonquin Park, provide products and services for your next visit to the Park. This includes accommodation, restaurants, outfitters, retail outlets, etc. Check the Commercial Services section for more details.
Lodges
Algonquin Park's three lodges (Arowhon Pines, Bartlett and Killarney Lodges) are usually open until Canadian Thanksgiving (second Monday in October) offering fine dining and/or accommodation. Please contact each lodge (see above) for exact operating dates, rates, meal times, and availability.
Stores and Restaurants inside Algonquin
The Opeongo Store, The Portage Store, and the Two Rivers Store are all open to Canadian Thanksgiving (second Monday in October). The Sunday Creek Café, located in the Visitor Centre, is open until the end of October. Dining is available also at the three lodges found in the Park, however, reservations are recommended.
A wide selection of restaurants can be found in all areas surrounding Algonquin Park. Check the Commercial Services section for more details.
Gasoline and Groceries inside Algonquin
Limited groceries are available at the Two Rivers Store and the Opeongo Store along the Highway 60 Corridor – both are open to Canadian Thanksgiving.
Gasoline is available at The Portage Store and the Opeongo Store along the Highway 60 Corridor – both are open to Canadian Thanksgiving.
After Thanksgiving
After Thanksgiving to mid-May (i.e., during the late fall and winter), gasoline, groceries, and lodging are available only outside the Park.
Trails
Interpretive Walking Trails
All interpretive walking trails are open during the fall months offering spectacular views of the autumn colours. Walking trails along Highway 60 with lookouts offering good views of maple colour include:
Trail guide booklets are removed from trailhead dispensers from late October to early May. Booklets are available year-round during business hours at the East Gate, West Gate, Visitor Centre and online.
Bike Trails
Bike trails remain open for the early fall months or until conditions such as heavy snow makes bicycling unfeasible. See the particular trail for more details.
Wildlife Viewing
During fall, you'll have a good chance of seeing a big bull Moose, its antlers now full-grown and polished, ready for the rut (mating season), in late September and early October. Fall evenings are the best time to try howling for wolves.
Experience fall bird migration by participating in an Interpretive Program or booking your own guide through the Group Education Program.
Safety
Fall Events
See the Events Calendar for a complete listing of upcoming programs, special events and operating hours for major Park facilities.
For More Information
Contact the Park Information Office.
---
Related Information
Reserve your developed or backcountry campsite for your next visit.
Share your passion for Algonquin Park by becoming a member or donor.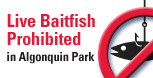 Special regulations for Algonquin's special fishery.