Algonquin Park Archives
What Does the Archives Do?
The Algonquin Park Archives exists to collect, preserve, and make accessible archival material relating to Algonquin Provincial Park.
The Archives collects and preserves materials that illustrate the growth and development of Algonquin Park or which pertain in whole, or in part, to activities within the geographic boundaries of the Park.
The Algonquin Park Archives is owned by Ontario Parks/Ministry of Natural Resources and managed by Ontario Park, with the substantial assistance of The Friends of Algonquin Park, in accordance with Provincial Archives standards.
The Algonquin Park Archives maintains:
10,000+ photographs (digital, slide and prints)
600 maps
240 oral history interviews
Ottawa, Arnprior and Parry Sound Railway photograph albums (1894-1896)
Cache Lake Leaseholder Association records (1927-1999)
Ducan MacLulich's research notes
Algonquin Park Management Plan records
Wilkinson and Thomas photographic collection
Dr. William M. Hurley's archaeology field notes, maps, etc.
Dr. George B. Hayes canoe trip photographs (1897)
Where is the Archives?
The Archives is located in a fire-proof, climate controlled room in the Algonquin Visitor Centre.
Donate an Artifact?
Donations of Algonquin Park related artifacts are welcomed. Items of interest include, but are not limited to physical objects, photographs, audio, video, documents, etc. These items should have specific relevance to the cultural history of Algonquin Park and might include personal artifacts of individuals, families, companies, camps, or other organizations with a link to Algonquin Park.
Support for the Archives is also possible by making a donation to The Friends of Algonquin Park. To find out more contact the Archives or support the Archives now.
The Algonquin Park Archives is available to qualified researchers by appointment only.
Contact the Algonquin Park Archives
c/o The Friends of Algonquin Park
Box 248
Whitney, Ontario, Canada
K0J 2M0
Phone: (613) 637-2828 ext. 229
E-mail
Reserve your developed or backcountry campsite for your next visit.
Share your passion for Algonquin Park by becoming a member or donor.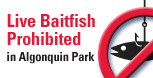 Special regulations for Algonquin's special fishery.