Submit Your Algonquin Park Images
Algonquin Park is home to some outstanding photographic opportunities. If you have taken images of Algonquin Park and would like to share them with The Friends of Algonquin Park for use in our educational programs and on our website please complete the form below.
Reserve your developed or backcountry campsite for your next visit.
Share your passion for Algonquin Park by becoming a member or donor.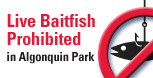 Special regulations for Algonquin's special fishery.