Employment with The Friends of Algonquin Park
If you are interested in working with one of the most successful cooperating associations in Canada, please do not hesitate to forward your resume at anytime to The Friends of Algonquin Park. Your resume will be kept on file for consideration during our next hiring process. Contact us.
---
Bookkeeper and Payroll Coordinator

The Friends of Algonquin Park (FOAP) is a charitable organization dedicated to enhancing Algonquin Park's educational and interpretive programs. The FOAP is seeking a dynamic, enthusiastic individual to administer the bookkeeping activities associated with daily and year-end business.
Responsibilities
Maintain the financial records using the Sage Simply Accounting system

Execute payroll, including but not limited to entering time sheet records, issuing
paycheques, writing employment contracts, compiling vacation summaries for full
time staff, issuing Records of Employment, handling source deductions;

Administer group insurance plan;

Remit monthly WSIB premiums and annual WSIB reconciliation;

Remit Employer Health Tax and Ontario Sales Tax as required;

Remit annual HST reconciliation;

Balance and prepare all deposits of Visitor Centre and Logging Museum
bookstore sales and post transactions;

Maintain Accounts Payable, ensuring all invoices are posted in system, payment
remitted when due;

Create month end reports for General Manager and Board members;

Generate sales and purchase journal reports from Point of Sale system and enter
into Accounting system once balanced;

Handle monthly bank reconciliations
Required Qualifications
Post-secondary education in business, accounting or equivalent work experience

Minimum of 2 years accounting experience required

Strong hands on working knowledge Microsoft Office applications

Previous work experience with Simply Accounting

Previous experience with payroll functions and remittances

Detailed oriented

Able to multi-task, work with deadlines and handle stress

Previous not-for-profit, charitable and/or public sector experience is an asset
Valid Ontario Driver's Licence and dependable vehicle

Work Location
Remuneration
Wage will range from $13.50 to $18.25 per hour commensurate with qualifications and experience.
This Part-Time Regular position is potentially based on an 8-hour day, 20 hours per week December through May and 40 hours per week June through October.
How to Apply

A detailed resumé outlining knowledge, skills, experience, and references should be emailed, mailed, faxed, or dropped off no later than January 6, 2017 to:
General Manager
The Friends of Algonquin Park
Algonquin Park Visitor Centre (at km 43)
Box 248, Whitney, ON, Canada K0J 2M0
Email: resume@algonquinpark.on.ca
Application deadline is January 6, 2017. We thank all applicants but only those selected for an interview will be contacted.
---
Seasonal Employment Opportunities
Seasonal employment opportunities are usually posted here in January for spring and summer positions in Algonquin Park. Fall employment opportunities are usually posted in July/August each year.
---
Volunteer Opportunities
The Friends of Algonquin Park has occasional volunteer opportunities. Please see the Volunteer webpage for current opportunities.
---
Cooperative Education & High School Volunteer Opportunities
The Friends of Algonquin Park has hosted various unpaid cooperative education and high school volunteer opportunities. Please contact us for more information.
---
Related Information
Reserve your developed or backcountry campsite for your next visit.
Share your passion for Algonquin Park by becoming a member or donor.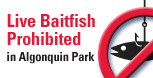 Special regulations for Algonquin's special fishery.