Day Use Fees
Daily Vehicle Permit*
Day use permits allow for day visits (valid until 10:00 p.m. of date of issue) to Algonquin Park, including access to trails, museums, beaches, and picnic grounds. For multiple day visits to Algonquin Park a Seasonal Day Use Permit may be more economical.
Valid to March 31, 2019
Prices include applicable taxes (13% HST).
* Ontario Parks discounts camping and day use fees for Ontario residents 65 and older and for Ontario residents with a disability who have a CNIB identity card or an MTO disabled person's parking permit. Ontario Senior rates have been discounted by 20%, rates for Ontario persons with disabilities by 50%.
Fees are subject to change by Ontario Parks.
---
Related Information
Reserve your developed or backcountry campsite for your next visit.
Share your passion for Algonquin Park by becoming a member or donor.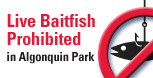 Special regulations for Algonquin's special fishery.