Fall Colour Report
Updated:
See the detailed fall foliage report below, plus links on how to plan a visit to Algonquin Park.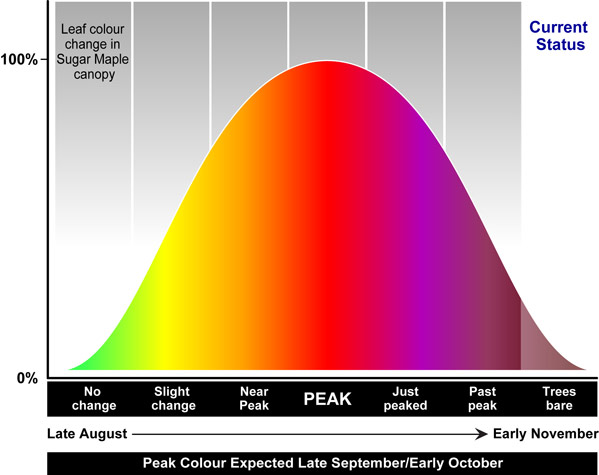 Report Date:
Current Status Category:
TREES BARE

Report Details:

Algonquin Park's fall colour season has concluded for 2013. All trees are now bare. Please check back in early September 2014 for the start of fall colour reporting. See below for details of the 2013 fall colour season.

---

History of Algonquin's Fall Colour Change

During the past 35+ years, the earliest Sugar Maple peak recorded was September 15, 1982 and the latest October 9, 1996. The average peak of the Sugar Maple canopy in the western portion of the Highway 60 Corridor is September 27. This year's peak of the Sugar Maple canopy was September 23, 2013. Learn more about the history of Algonquin's fall colour peak.

Algonquin Park's fall colour change occurs earlier than most other locations in south-central Ontario because of the Park's higher elevation and shorter growing season.
Images
Submit your images of fall in Algonquin
Plan Your Visit
---
Related Information
Reserve your developed or backcountry campsite for your next visit.
Share your passion for Algonquin Park by becoming a member or donor.
Thanks to our 2013 Raffle Partners.