Algonquin Art Centre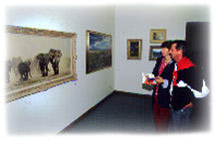 At Km 20, on a small hill next to Found Lake, there sits a giant, hollow sculpture made of stone. Created in 1953, this work of art was the original Park Museum. In 2005, new life was breathed into its earthly presence – as the Algonquin Art Centre!
The Framing Place and Gallery (Huntsville) has been entrusted to carry out this unique project. The central vision of this project is to act as a bridge, connecting the art world with the natural world, as well as to promote the preservation and protection of the environment, from a local to global scale.
Another Art Centre ethic is to make this facility available to everyone – it is wheelchair accessible and the entrance fee is a voluntary admission, where your contribution will be put towards the enhancement of this "open-concept" project.
The Algonquin Art Centre has an indoor gallery, consisting of three wings and a boutique; an outdoor gallery; and a "Green" Gazebo where you can treat yourself to various tasty treats, teas and coffees, or participate in one of the many scheduled art activities for both adults and children.
Related Information
Reserve your developed or backcountry campsite for your next visit.
Share your passion for Algonquin Park by becoming a member or donor.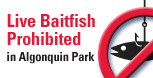 Special regulations for Algonquin's special fishery.