Brent Ranger Cabin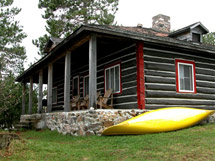 History
Construction of the Brent Deputy Chief Ranger's headquarters was begun in 1932 under the supervision of then Park Superintendent Frank MacDougall. Built to replace an existing Ontario Forestry Branch building, the new headquarters were "to provide a respectable looking building in keeping with the status of a Government service".
A smaller cabin, the Brent Deputy Ranger Cabin, and warehouse were also built at the same time but needed some work. All buildings were constructed of sturdy White and Red Pine logs with a life expectancy, estimated at that time, of 30 years. Some repairs were required, and restoration began in 1994 with financial support from Algonquin Outfitters and The Friends of Algonquin Park. This partnership continues today with ongoing projects under the umbrella of the Brent Historical Enhancement Fund. More than 60 years later, the log buildings are as sound as ever.
Features & Amenities
Location & Access
Access Point Office
Nearby Attractions
Further Information
---
Related Information
Reserve your developed or backcountry campsite for your next visit.
Share your passion for Algonquin Park by becoming a member or donor.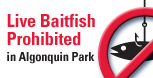 Special regulations for Algonquin's special fishery.