Algonquin Park Video Gallery
Below are videos of Algonquin Park brought to you by The Friends of Algonquin Park. Please subscribe to us on YouTube.
---
Algonquin Park: Yours to Explore
Established in 1893, Algonquin Provincial Park one of Canada's oldest and most famous protected areas. Covering 7,630 square kilometre and attracting a million visitors annually, Algonquin Park has something for nearly everyone.
---
The Stewardship of Algonquin Park
Many of the activities that you enjoy as an Algonquin Park visitor simply would not be possible if it weren't for the dedicated work of The Friends of Algonquin Park.
---
Algonquin Park Wolf Howl with Michael Runtz
Join former Algonquin Park Naturalist, author, and photographer Michael Runtz for a virtual wolf howl in Algonquin Park in Ontario, Canada. Learn more about Public Wolf Howls.
---
Algonquin Fall
Each year from September to November, Algonquin Park undergoes a dramatic transformation from summer to winter. With Algonquin Park's relatively high elevation compared to surrounding areas, and thus cooler temperatures, summers are short lived. Shorter daylight length and cooler temperatures, encourage plants and animals to prepare for winter. This film showcases the spectacular scenery and wildlife associated with fall in Algonquin Park.
---
The Loggers of Algonquin
Discover the story of Algonquin Park logging from its earliest beginnings in the 1830s to the modern management practices of the present. After watching this video learn more by visiting the Algonquin Logging Museum.
---
Ontario Turtles At Risk
Ontario's turtles are slow growing and long-lived. These traits combined with habitat loss, road mortality and illegal collection are putting Ontario's turtles at risk. Turtle research in Algonquin Park is helping us better understand these charismatic creatures. A dedicated team of individuals is working to ensure the protection of Ontario's turtle population. Discover more about these fascinating creatures and what can be done to protect turtles for future generations. This video is brought to you by The Friends of Algonquin Park with assistance provided by the Government of Ontario.
---
The Natural Brook Trout Lakes of Algonquin Park
Algonquin Park is home to one of the world's highest concentrations of natural Brook Trout lakes. Despite being a 7,630 square kilometre protected area, Algonquin's native fisheries are under threat. Learn what research has taught us about this special fishery and the simple things you can do to protect it for future generations.
---
Algonquin Park - Through the Seasons
Discover what Algonquin has to offer through the seasons in this short, non-narrated, video featuring the highlights of this 7,630 square kilometre provincial park.
---
Pack of Wild Eastern Wolves in Algonquin Provincial Park - February 18, 2010
On February 18, 2010, Park Staff and visitors watched from the Visitor Centre viewing deck as a pack of 7 wolves interacted around a White-tailed Deer carcass.
---
An Algonquin Beaver Pond
Beaver ponds are one of the five major habitat types in Algonquin Provincial Park. Beavers (Castor canadensis) build dams, lodges and food piles creating suitable habitat for a variety for animals and plants. See more at the Beaver Pond Trail.
---
Wild Eastern Wolves in Algonquin Provincial Park - February 18, 2010
This video shows the interactions of two wild Eastern Wolves in Algonquin Provincial Park, Ontario, Canada. Watch as a wolf challenges a more dominant wolf already feeding upon the White-tailed Deer carcass. This video is shaky since it was recorded using a spotting telescope and a hand held video camera.
---
Rick Mercer Learns to Kayak with Adam van Koeverden in Algonquin Park
Canadian comedian Rick Mercer visits Algonquin Park where Olympian Adam van Koeverden teaches him how to kayak at the peak of fall colour. Originally aired on CBC's Rick Mercer Report on October 30, 2012.
---
Rick Mercer Report: Black Bear Research in Algonquin Park
On February 24, 2009, Rick Mercer of the CBC's Rick Mercer Report joined Dr. Marty Obbard, Ministry of Natural Resources research scientist in Algonquin Park to study Algonquin's Black Bear population.
---
A Love of Birds: Doug Tozer's Bird Research
The lakes, forests, and trails of Algonquin Park serve as a major research laboratory for approved researchers. Discover more about Doug Tozer, former Algonquin Park Naturalist, and current bird researcher with Trent University and the Ontario Ministry of Natural Resources and his "Love of Birds".
---
Brook Trout Spawning in Algonquin Park
Algonquin Park is home to the world's highest concentration of Brook Trout (Salvelinus fontinalis) lakes in the world. Watch as several fish spawn in Algonquin Park during the late fall.
---
Leave No Trace - National Park Service (NPS) Video
How can you minimize your impacts upon Algonquin Park (and other locations) for future generations? Learn more about Leave No Trace.
---
Related Information
Reserve your developed or backcountry campsite for your next visit.
Share your passion for Algonquin Park by becoming a member or donor.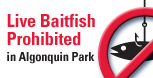 Special regulations for Algonquin's special fishery.