Drive To Camping
Drive to camping opportunities are accessible by vehicle (car, truck, recreational vehicle, etc.). This is in contrast to backcountry camping opportunities where your vehicle is not permitted at the final camping destination.
Drive To Camping
Reserve your developed or backcountry campsite for your next visit.
Share your passion for Algonquin Park by becoming a member or donor.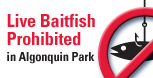 Special regulations for Algonquin's special fishery.