Motor Restrictions in Algonquin Park
Motor boats are not permitted on most Algonquin lakes. Power boat means a boat that is propelled by electric, gasoline, oil or steam motive power.
There are four groups of exceptions listed below. For lake locations please see the Canoe Routes Map of Algonquin Park.
(a) Motors of unlimited horsepower may be used on:
Galeairy Lake
Lake Opeongo
(b) Motors of 20 horsepower or less may be used on:
Bonita Lake
Cache Lake
Canoe Lake
Cedar Lake
Kingscote Lake
Kioshkokwi Lake
Little Cauchon Lake
Rock Lake
Smoke Lake
Source Lake
Tanamakoon Lake
Tea Lake
Lake of Two Rivers
Whitefish Lake
(c) Motors of 10 horsepower or less may be used on:
Cauchon Lake
Cauliflower Lake
Grand Lake
Joe Lake
Little Joe Lake
Madawaska Lake
Manitou Lake
North Tea Lake
Radiant Lake
Rain Lake
Tepee Lake
Lake Travers
(d) Motors of 6 horsepower or less may be used, except from the last Friday in June to the first Monday in September inclusive, on:
Big Crow Lake
Hogan Lake
Lake La Muir
Proulx Lake
Little Crow Lake
White Partridge Lake
Reserve your developed or backcountry campsite for your next visit.
Share your passion for Algonquin Park by becoming a member or donor.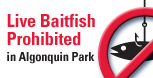 Special regulations for Algonquin's special fishery.