Caching of Boats and Canoes
Canoe and boats may not be left unattended anywhere in Algonquin Park except (by written authority from the Park Superintendent) on:
Little Cauchon Lake at the Carl Wilson Lake Portage;
Little Cedar Lake at the entrance to Aura Lee Lake;
Manitou Lake at the Three Mile and Shada Lake portages;
North Tea Lake at the Manitou Lake portage;
Opeongo Lake at the Happy Isle, Redrock, Proulx and Wright Lake portages;
Rock Lake at the Pen and Lousia Lake portages;
Smoke Lake at the Ragged Lake portage; and
All marked portages off of Cedar, Grand, Kioshkokwi, Mangotasi and White Partridge.
All boats and canoes must be removed from the Park at the end of each trip.
---
Related Information
Reserve your developed or backcountry campsite for your next visit.
Share your passion for Algonquin Park by becoming a member or donor.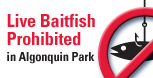 Special regulations for Algonquin's special fishery.