Research and Research Permits
Much of what we know about Algonquin Park has been learned through scientific research. A tremendous amount of scientific research has taken place in Algonquin Park over the years, and the Park continues to provide an important area for scientists from around the world.
Current Research Projects
The Science Behind Algonquin's Animals
Research Summary
Algonquin Provincial Park Bibliography
Research Facilities
Apply to Conduct Research in Algonquin Park
All research that is conducted in a provincial park requires a valid research authorization. Apply for a Research Permit.
---
Related Information
Reserve your developed or backcountry campsite for your next visit.
Share your passion for Algonquin Park by becoming a member or donor.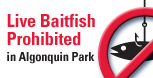 Special regulations for Algonquin's special fishery.