Backcountry Canoeing
Algonquin Park has over 2,000 kilometres of canoe routes in the Park backcountry to tempt canoeists, from beginners to old hands, to explore the variety of Algonquin's landscapes.
How do I get started? - Learn the basics of using Algonquin's backcountry canoe routes network.
Canoe Routes Map - An essential piece of trip planning information showing routes, portage, campsite, access points, etc.

Access Points - Where to begin a backcountry trip.
Whitewater Canoeing - Explore one of Algonquin's premier whitewater canoeing rivers.

Ranger Cabins - Rustic historic ranger cabins located at various sites throughout the Park's backcountry are available for rent from spring to fall for people on canoe trips.
Equipment Sales and Rental - Dozens of outfitting services are located within Algonquin and around its periphery. If you don't have, or aren't sure about, the food and equipment for a canoe or backpacking trip in the backcountry, write or speak to the experts.
Backcountry Fees & Permits - What will it cost to camp in the backcountry?
Special Backcountry Regulations - Algonquin's has special rules regarding backcountry use. Ensure you are aware of them before heading off.
Leave No Trace - Do you make wise decisions to protect Algonquin Park's backcountry?
Backcountry Reservations - In order to remove any uncertainty about being able to camp at the time and place you are counting on, we recommend that a reservation be made in advance of your trip.
Related Information
Reserve your developed or backcountry campsite for your next visit.
Share your passion for Algonquin Park by becoming a member or donor.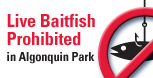 Special regulations for Algonquin's special fishery.