Forest Management in Algonquin Park
Forestry in Algonquin Park is managed by the Algonquin Forest Authority (AFA), a crown corporation which supplies forest products to manufacturing industries in the region and across southern Ontario. Forestry activities within the Park itself is associated with the planning, harvesting, renewal and maintenance of the forest resource based on an ecologically sustainable basis.
---
Invitation for Public Comment
Independent Audit of the Algonquin Park Forest
Under the Independent Forest Audit program, all Forest Management Units in the province are audited regularly to ensure that their management has followed approved plans and complies with the requirements of the Crown Forest Sustainability Act. This year, the Algonquin Park Forest is among those being audited and ArborVitae Environmental Services Ltd. invites you to provide your perspective.
The Forest is managed by the Algonquin Forestry Authority (AFA) under an agreement with the Ontario government. Ontario Parks of the Ministry of Natural Resources and Forestry (MNRF) contributes to management of the Forest by overseeing operations, ensuring legal compliance, and approving management plans, annual work plans and reports. Both organizations are being audited.
You are invited to provide comments on line at https://www.surveymonkey.com/r/Algonquin_Park. All replies will be treated seriously and may be used to direct the auditors' attention and activities during the audit. You may also send your comments directly to Jeremy Williams, the audit team leader: jeremy.w@sympatico.ca. All correspondence received will remain confidential within the audit team.
Jeremy Williams
ArborVitae Environmental Services Ltd
3 Pine Crescent, Toronto, ON Canada M4E 1L1
Phone: 416 694-8123 and 905 373-7350
---
Related Information
Reserve your developed or backcountry campsite for your next visit.
Share your passion for Algonquin Park by becoming a member or donor.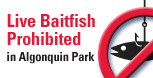 Special regulations for Algonquin's special fishery.