Boil Water Advisory
Ontario Parks is reporting the following location(s) are under a boil water advisory:
No boil water advisories at this time.
Any laundry, toilet, and shower facilities at these locations will be provided with clean non-potable water for their operation, but water must be boiled before consumption.
For everyone's safety the boil water notice will remain in effect until the water treatment plants produce water that is verified as safe and potable by meeting the provincial water quality standards through testing by an independent lab.
Ontario Parks apologizes for this inconvenience, and potable water will be available from nearby Park facilities for those requiring it.
Reserve your developed or backcountry campsite for your next visit.
Share your passion for Algonquin Park by becoming a member or donor.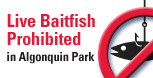 Special regulations for Algonquin's special fishery.