Boating
Motors (including electric and gasoline) are prohibited on most lakes within Algonquin Park. However, exceptions exist along the developed Highway 60 Corridor and some backcountry lakes. See Motor Restrictions in Algonquin Park for more details.
Permitted Activities
Kayaking
Sailboats
Windsurfing
Self propelled water craft are permitted (e.g paddle boats)
Prohibited Activities
No water skiing (or similar activities)
No personal watercraft (jet skis, Sea-Doos, WaveRunners, etc.)
Boat Launches Ramps
Most boat launches in Algonquin Park are designed for canoes or small motorized boats (where permitted) and are typically sand or gravel. Lake Opeongo's has a larger boat ramp facility suitable for larger boats as a result of motor restrictions.
---
Related Information
Reserve your developed or backcountry campsite for your next visit.
Share your passion for Algonquin Park by becoming a member or donor.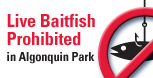 Special regulations for Algonquin's special fishery.