Swimming
The clear, clean lakes of Algonquin offer endless opportunities for swimming. All campgrounds and picnic areas have designed unsupervised beach areas, plus the backcountry offers hundreds of lakes for swimming.
Beaches
Lifeguards are not posted at Algonquin Park swimming areas.
Reserve your developed or backcountry campsite for your next visit.
Share your passion for Algonquin Park by becoming a member or donor.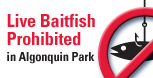 Special regulations for Algonquin's special fishery.