Wildlife Watching
Algonquin Park is home to 55 mammal species, 32 kinds of reptiles and amphibians (none venomous), and more than 140 species of breeding birds. One cannot expect to see all of them in a single visit but, by following a few guidelines, it is possible to see a good sample.
The Highway 60 Corridor is a great place to start; in fact, far more wildlife is seen each year right along Highway 60 than in all of the Park backcountry. Some animals (particularly Moose) are actually attracted to the highway at certain times of the year.
Moose crossing sign in Algonquin Park

Go out in the evening or, better still, at dawn and the two or three hours which follow. Early morning is the best time to see birds and mammals, it is the coolest, most beautiful part of the day and one which you will have almost entirely to yourself, even when the Park is full.
Take binoculars. They are indispensable when looking at birds but are useful also for getting close-up views of large mammals.
Concentrate on low-lying, wet areas such as bogs, ponds, and beaver meadows. These places are the preferred habitat of many wildlife species and they often provide open vistas or breaks in the thick forest making for excellent wildlife viewing. Some of the interpretive trails along Highway 60, such as the Beaver Pond Trail, the Spruce Bog Boardwalk, and particularly the Mizzy Lake Trail take advantage of this fact and are excellent places to try.
Be careful! If you stop to watch wildlife along the highway, remember to pull onto the shoulder, safely off the pavement. Watch for traffic especially if crossing the road! And remember that you are viewing wild animals; stay at a respectful distance at all times!
---
Related Information
Reserve your developed or backcountry campsite for your next visit.
Share your passion for Algonquin Park by becoming a member or donor.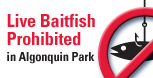 Special regulations for Algonquin's special fishery.