Rain Lake Ranger Cabin
History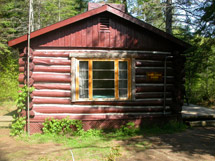 The existing cabin was moved to Rain Lake from Cache Lake where it was a private leased cottage in the late 1970s. It was used as an backcountry permit office until 1995. Rain Lake had, according to the historic files, three cabins at different locations. At the turn of the century, a shelter hut was situated at the north end. Its remaining foundation was covered by water when the logging dam was constructed. An old lumber camp adjacent to the rail line, "Eagle Lake Landing", was a stopping place for passengers wishing to disembark at then "Eagle Lake" which is now called Rain Lake. A ranger cabin was built here in the 1920s.
A third ranger cabin is documented at Rain Lake Station, part of a complex of pumphouses, large water tanks, and living quarters for the station crew men. The usual $50 allotment was given to construct the cabin for the rangers patrolling this area of the Park. Up until then the rangers stayed in an old building owned by McCraney Lumber Company; now in use, the rangers started to build their own cabin. Being good scroungers the rangers salvaged lumber and fittings from the old buildings at Brule Lake and, as customary, work was done by the rangers themselves. Windows and roofing accounted for most of the final $43 cost of construction.
Features & Amenities
This water front log cabin, [27' x 19'], is located at the end of the public access road at Rain Lake. In the fall of 1999, the cabin was relocated slightly north to a more secluded, forested site with a long northeasterly view down Rain Lake.
The cabin has 2 separate bedrooms (sleeps 4) with:

4 single beds with foam mattresses

The cabin has a 10' x 12' screened in porch
Composting toilets are in close proximity and are shared with other campers.
There is a beach, boat launch ramp, and motor restrictions on Rain Lake.
The cabin features a propane powered stove, fridge, lights and heater.
All Ranger Cabins have fire extinguishers, wash basin, broom, dust pan.
Cabins are not equipped with any dishes, or pots and pans.
Smoking is prohibited in Ranger Cabins.
Pets are prohibited.
No running water, indoor bathrooms, or electricity is available.
Location & Access
Access Point Office
Further Information
---
Related Information
Reserve your developed or backcountry campsite for your next visit.
Share your passion for Algonquin Park by becoming a member or donor.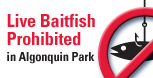 Special regulations for Algonquin's special fishery.