Western Uplands Backpacking Trail
Description
Western Uplands is an overnight backpacking trail with loops of 32 - 88 kilometres in length. The trail can be accessed from the Western Uplands Backpacking Trailhead/Oxtongue River Picnic Ground or the Rain Lake Access Point.
Length
Location
Access is available from:
Operating Dates
Difficulty Rating & Rationale
Difficult. Steep climbs, side slopes and sharp turns.
The trailhead area of the Western Uplands Backpacking Trail is prone to flooding during late April and early May, contact Algonquin Park Information for more information.
Features & Amenities
Parking
Bathrooms
Picnic ground at Highway 60 trailhead
Scenic lookouts
Glacial erractic boulders
Lakes and rivers
Access Point Office
Trail Map
Fees
Nearby Attractions
---
Related Information
Reserve your developed or backcountry campsite for your next visit.
Share your passion for Algonquin Park by becoming a member or donor.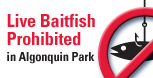 Special regulations for Algonquin's special fishery.