The Jack Pine Trail

Description
The Jack Pine Trail is a 1.6 km trail that takes you to the location where Tom Thomson was inspired to paint The Jack Pine. This trail begins and ends at the Achray Campground. This location is stop #6 on the Achray Historic Site Exhibit, a series of self-guided exhibit panels featuring the history of the Achray area from 1914 to the present.
Length
1.6 km (round trip)
Location
The Jack Pine Trail is located at the Achray Campground. Latitude/Longitude: 45.866127°, -77.753565°
Difficulty Rating & Rationale
Features & Amenities
Scenic views of where Tom Thomson created The Jack Pine
Parking
Toilets
Out-Side-In (Ranger Cabin where Tom Thomson lived)
Achray Campground
Trail Guide
There is no trail guide for the Jack Pine Trail.
Fees
Nearby Attractions
---
Related Information
Reserve your developed or backcountry campsite for your next visit.
Share your passion for Algonquin Park by becoming a member or donor.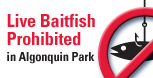 Special regulations for Algonquin's special fishery.