Whitefish Lake Group Campground
What is Group Camping?
Whitefish Group Campground was developed primarily to accommodate organized youth and special groups up to 40 individuals with basic amenities. Organized groups which are larger than this may use the campground, but will have to split up into smaller groups, utilizing more than one site. Adult groups such as family reunions and clubs may book into the campground but youth and special groups have booking priority.
Youth Group means a group of persons:
accompanied by their supervisors
composed primarily of persons between the ages of 5 and 17 years (inclusive) who are;

(a) residents of Canada, and
(b) sponsored by a non-profit, religious, charitable or educational organization.
Special Group means a group of persons:
accompanied by their supervisors
composed of residents of Canada of any age who are:

patients in Ontario hospitals,
patients in institutions for the mentally or physically handicapped, or
residents in training centres, training schools or correctional centres administered by the Ministry of Public Safety and Security or Ministry of Community, Family and Children's Services.
Operating Dates
Whitefish Group Campground is open from late April to Thanksgiving.
The operation and maintenance of the campground is provided by Ontario Parks.
Location
Features & Amenities
18 large campsites suitable for groups up to 40 people
Average site seclusion
Vault toilets
Drinking water
Beach
2 km gravel road to campground
Campground Map
Below is a current map of the Whitefish Lake Group Campground for trip planning purposes. Click to enlarge the map.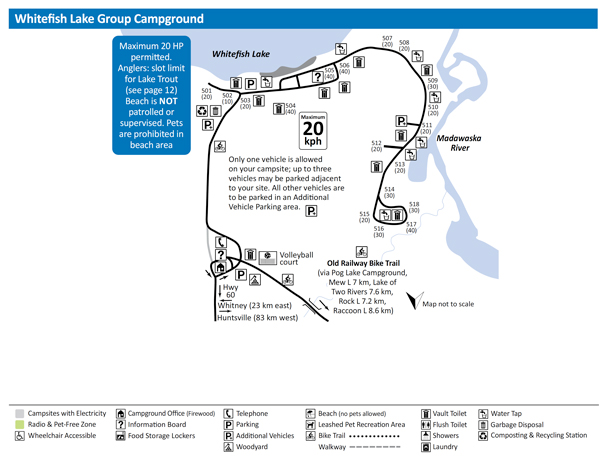 Make a Reservation
Whitefish Lake Group Campground reservations can only be made by the following methods.
Online at www.ontarioparks.com by selecting Group as your Reservation Type, and Algonquin as Pick your park and/or campground.

By telephone at 1-888-ONT-PARK (1-888-668-7275) or 519-826-5290 outside North America.
Nearby Attractions
---
Related Information
Reserve your developed or backcountry campsite for your next visit.
Share your passion for Algonquin Park by becoming a member or donor.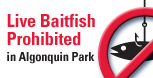 Special regulations for Algonquin's special fishery.