Whitefish Lake Group Campground Fees
Whitefish Lake Group Campground camping permits allow for overnight stays only at Algonquin Park's group campground, located off the Pog Lake Campground Road at km 36.9 along the Highway 60 Corridor.

Whitefish Lake Group Campground is available from late April to Thanksgiving by reservation. Ontario Parks charges the following fees for camping at Whitefish Lake Group Campground
Regular Groups

$118.37 per night
Youth/Special Groups
$59.33 per night
Additional Vehicles
$14.13/vehicle/night (payable upon arrival)
Only 1 vehicle is included in the cost of the site. Three vehicles allowed on site at any time; all other vehicles must be parked in an Additional Vehicle Parking area.
Prices include applicable taxes (13% HST).
* Ontario Parks discounts camping and day use fees for Ontario residents 65 and older and for Ontario residents with a disability who have a CNIB identity card or an MTO disabled person's parking permit.
Fees are subject to change by Ontario Parks.
---
Related Information
Reserve your developed or backcountry campsite for your next visit.
Share your passion for Algonquin Park by becoming a member or donor.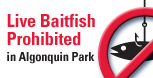 Special regulations for Algonquin's special fishery.