Wenda Lake Ranger Cabin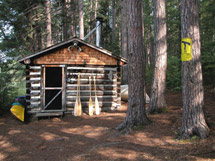 History
We know very little about the history of this cabin except that it was built by a Park ranger, the late Max Borutski. By the nature and construction techniques we believe it was built in the early 1920s. It is a one-room, open-concept log cabin and is located in a mature Red Pine stand on the north shore of Wenda Lake, giving it a southern exposure.
Features & Amenities
All cabins have fire extinguishers, wash basin, metal pail, shovel, broom, dust pan, bunks (no mattresses), table and chairs, and an outside closed-in toilet.
There is NO wood-burning stove at the Wenda Lake Cabin
Cabins are not equipped with any dishes, or pots and pans.
Smoking is prohibited in rustic Ranger Cabins.
Pets are prohibited.
No running water, indoor bathrooms, or electricity is available
Location & Access
Backcountry canoe access only. No vehicle access.
The best route to the Wenda Lake Ranger Cabin is by canoe through scenic Caracajou Bay and Spectacle Lake from the Grand Lake - Achray Access Point. An alternate route is west up Grand Lake, and then by portage 3620 metres to Wenda Lake. This can be an arduous portage due, not only to its length, but also to the steep grade.
Consult the Algonquin Park Canoe Routes Map for detailed directions.
Access Point Office
Further Information
---
Related Information
Reserve your developed or backcountry campsite for your next visit.
Share your passion for Algonquin Park by becoming a member or donor.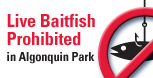 Special regulations for Algonquin's special fishery.