Highview Ranger Cabin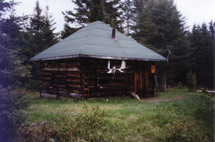 History
The original cabin was built in 1922 as headquarters for fire rangers on this patrol, on the site of an old J.R. Booth lumber camp. It was home for two rangers for six years. Then in July 1928, lightning destroyed the cabin and one of the old Booth offices. The senior fire ranger was not around to extinguish the blaze. He was at Brule Lake railway station meeting his new partner.
The rangers then constructed the present cabin over a ten day period with a budget of $50. The actual total cost was $37.50 because lumber, framing material and some roofing were salvaged from Booth's old buildings on site. Windows, roofing paper, necessary hardware, and teaming the materials to the site accounted for most of the cost.
Features & Amenities
One room, open concept log cabin
This cabin has fire extinguisher, wash basin, metal pail, shovel, broom, dust pan, bunks (no mattresses), CSA-approved wood-burning stove and chimney, stove operating instructions, heat shields behind and under the stove, table and chairs, and an outside closed-in toilet.
Not equipped with any dishes, or pots and pans.
Smoking is prohibited in rustic Ranger Cabins.
Pets are prohibited.
No running water, indoor bathrooms, or electricity is available.
Location & Access
Closest Access Point
Further Information
---
Related Information
Reserve your developed or backcountry campsite for your next visit.
Share your passion for Algonquin Park by becoming a member or donor.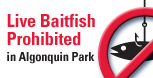 Special regulations for Algonquin's special fishery.