Big Crow Ranger Cabin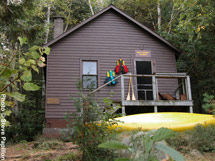 History
This fire ranger's cabin, with its boathouse and fire tower, were all built in 1956. The tower was located about a half-mile up a steep hill from the cabin. Not only were these structures among the last to be constructed, they remained the last in use. Indeed, the fire tower was one of the last in all of Ontario to be used for fire detection (up to the mid-1970s).
Features & Amenities
The cabin is a frame construction with a northerly exposure and has two bedrooms (one set of single wooden bunks in each; no mattresses), a kitchen, and living area. Brook Trout fishing is good in Big Crow, Little Crow, and Proulx lakes, and the Crow River. There are also Lake Trout in Big Crow Lake. When you rent this cabin you may wish to visit one of the last virgin stands of White Pine in Algonquin Park, located just downstream south of the Crow River.
All cabins have fire extinguishers, wash basin, metal pail, shovel, broom, dust pan, bunks (no mattresses), CSA-approved wood-burning stove and chimney, stove operating instructions, heat shields behind and under the stove, table and chairs, and an outside closed-in toilet.
Cabins are not equipped with any dishes, or pots and pans.
Smoking is prohibited in rustic Ranger Cabins.
Pets are prohibited.
No running water, indoor bathrooms, or electricity is available
Location & Access
Closest Access Point
Further Information
---
Related Information
Reserve your developed or backcountry campsite for your next visit.
Share your passion for Algonquin Park by becoming a member or donor.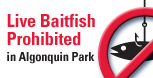 Special regulations for Algonquin's special fishery.