Basin Lake Access Point (#19)
Location
From a point on Highway 58, 7.3 kilometres north of Round Lake Centre, proceed to Turnerís Road/Basin Lake Road (opposite the Bonnechere Park entrance) and travel 16 kilometres (on pavement, then gravel) to the Park boundary which provides access to Basin Lake (at km 14.3), Foys Lake (at km 23.6), and to the Bonnechere River at the hydroelectric transmission corridor (at km 35). Latitude and longitude of Access Point: 45.657499°, -77.580225°
Facilities
Access Point Office
Bonnechere Provincial Park
4024 Round Lake Road
Killaloe, Ontario K0J 2A0
Phone: (613) 757-2103
Latitude and Longitude: 45.657545°, -77.579925°
Hours and Dates of Operation
The Basin Lake Access Point is operated by Bonnechere Provincial Park under agreement to Ontario Parks/Algonquin Park.
The Bonnechere Provincial Park office is open:
September 6 to October 11, 2021


Monday to Thursday, 10:00am - 3:00pm

Friday, 10:00am - 7:00pm

Saturday and Sunday, 9:00am - 3:00pm
---
Related Information
Reserve your developed or backcountry campsite for your next visit.
Share your passion for Algonquin Park by becoming a member or donor.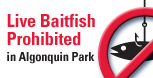 Special regulations for Algonquin's special fishery.