McKaskill Lake Ranger Cabin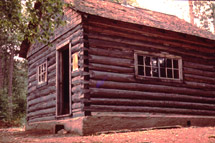 History
This cabin was built in 1932. It originally contained a Findlay Norway cook stove which has now been replaced with a CSA-approved wood stove. It, like many other cabins, was used by Park rangers patrolling their areas. A new roof was put on it in 1939. Road access was made possible in 1953 with the construction of the Ontario Hydro Line. In view of the road access, the cabin was extensively used by Park canoe rangers and timber technicians carrying out their duties in the area. In 1993, the cabin received extensive repairs with the finishing touches being put on it in 1996.
Features & Amenities
It is a waterfront, one room, open concept log cabin with a northwest exposure located in a mature Red Pine stand on McKaskill Lake.
All cabins have fire extinguishers, wash basin, metal pail, shovel, broom, dust pan, bunks (no mattresses), CSA-approved wood-burning stove and chimney, stove operating instructions, heat shields behind and under the stove, table and chairs, and an outside closed-in toilet.
Cabins are not equipped with any dishes, or pots and pans.
Smoking is prohibited in rustic Ranger Cabins.
Pets are prohibited.
No running water, indoor bathrooms, or electricity is available
Location & Access
Access Point Office
Further Information
---
Related Information
Reserve your developed or backcountry campsite for your next visit.
Share your passion for Algonquin Park by becoming a member or donor.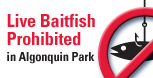 Special regulations for Algonquin's special fishery.