Aylen Lake Access Point
Location
From Highway 60, travel 11.8 kilometres east of the village of Madawaska, follow the Aylen Lake Road north for 7.8 km, turn left crossing over a dam and continue 0.4 km, turn right and proceed 0.3 km to the public boat launch on the southwest shore of Aylen Lake.
Latitude and Longitude: Approximately: 45.592714°, -77.866646°
Facilities
Access Point Office
Please call 613 637-2780 extension 229 for information, or stop by the East Gate during posted business hours (see Events Calendar).
---
Related Information
Reserve your developed or backcountry campsite for your next visit.
Share your passion for Algonquin Park by becoming a member or donor.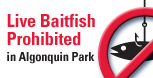 Special regulations for Algonquin's special fishery.