Tattler Lake Ranger Cabin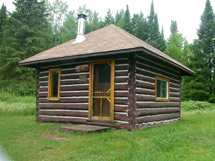 History
This cabin was the living quarters for the successive towermen who manned the Preston fire tower situated on a hilltop about 1.5 miles west of the cabin. The tower itself was put up in 1932 (moved from a less satisfactory location established in 1922 at Kitty Lake). The new hilltop was at an elevation of 1900 feet -- the highest spot in all of Algonquin Park. We have no record concerning the cabin's construction but the location is on the old No. 3 Camp of the J.R. Booth Lumbar Company. Booth's men helped in moving the tower components to the new site and they may well have contributed material and/or labour to the cabin as well.
By 1964, the tower was said (by an old report in the Park archives) to "sway quite noticeably in the wind" and the roof apparently needed fixing "because in winds one side lifts up". As for the cabin, it was "snake infested and logs are beginning to rot".
The summer of 1970 was probably the last year the tower was used and a 1971 directive called for the tower (and presumably the cabin as well) to be dismantled. However, all historic Park sites were evaluated between 1971 and 1973. The 1973 report on the Tattler Lake cabin was more positive, recognizing improvements made by portage crews and canoeists. A new roof has since been put on and other improvements made.
Features and Amenities
You will find an excellent cold water spring a few minutes walk along the old phone line behind the field.
All cabins have fire extinguishers, wash basin, metal pail, shovel, broom, dust pan, bunks (no mattresses), CSA-approved wood-burning stove and chimney, stove operating instructions, heat shields behind and under the stove, table and chairs, and an outside closed-in toilet.
Cabins are not equipped with any dishes, or pots and pans.
Smoking is prohibited in rustic Ranger Cabins.
Pets are prohibited.
No running water, indoor bathrooms, or electricity is available
Location and Access
Ranger Cabin Regulations
Learn more about special regulations that apply to Algonquin Park ranger cabins. See additional rules and regulations that apply to Algonquin Park.
Ranger Cabin Rental Fees
Ontario Parks charges fees for all ranger cabin rentals. See the latest ranger cabin rental prices.
Make a Reservation
Make a reservation for your backcountry camping permit up to 5 months in advance. Permits are only available online or via telephone.
Visitors will need to reserve this ranger cabin and possibly make one or more nights of backcountry camping reservations depending upon their exact route.
Equipment Rental
Do you need to rent a canoe, tent, or other camping equipment? Find a business that can supply some or all of the required equipment for your backcountry trip.
Water Levels
Check for special advisories prior to your departure at Algonquin Park Advisories.
---
Related Information
Reserve your developed or backcountry campsite for your next visit.
Share your passion for Algonquin Park by becoming a member or donor.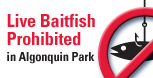 Special regulations for Algonquin's special fishery.