Lost Coin Lake Ranger Cabin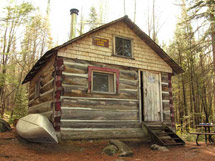 History
There is very little on file on this cabin. We do know that it was built in 1936 by the Ontario Forestry Branch. In 1973 it was evaluated as "worthless" because it was so isolated from roads and canoe routes. Today this could be a selling point.
Features & Amenities
This log, one room, open concept cabin is located on a shallow, weedy shoreline on Lost Coin Lake (no swimming opportunities). The main attraction, mostly in the spring, is Brook Trout fishing. The rest of the year it has great hiking and wildlife viewing opportunities on old roads in the vicinity.
All cabins have fire extinguishers, wash basin, metal pail, shovel, broom, dust pan, bunks (no mattresses), CSA-approved wood-burning stove and chimney, stove operating instructions, heat shields behind and under the stove, table and chairs, and an outside closed-in toilet.
Cabins are not equipped with any dishes, or pots and pans.
Smoking is prohibited in rustic Ranger Cabins.
Pets are prohibited.
No running water, indoor bathrooms, or electricity is available
Location & Access
Visitors can access the cabin by driving the Bissett Road to the Park boundary after turning off Highway 17 one kilometre east of the Village of Big Bissett. Visitors to the cabin must hike or bike the seven kilometres from the Park Boundary to the cabin over a forest access road.
Consult the Algonquin Park Canoe Routes Map for detailed directions.
Access Point Office
Further Information
---
Related Information
Reserve your developed or backcountry campsite for your next visit.
Share your passion for Algonquin Park by becoming a member or donor.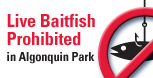 Special regulations for Algonquin's special fishery.