Kitty Lake Ranger Cabin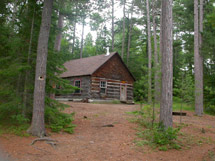 History
Built in 1935, this is one of our larger cabins. Materials were salvaged from both the abandoned Booth Depot Farm in close proximity and the adjacent Booth "End of Steel" lumber camp. Road access enabled rangers to easily bring in dressed lumber for the roof and floor. Few areas of Algonquin saw so much pioneering activity as this area. A logging depot farm, lumber camp, logging railway, fire tower, hose drying tower, towerman's cabin, a fire equipment storage house on the river and improvements for the spring river log drive are all evident within one mile of this cabin. In fall 2015, volunteers with The Friends of Algonquin Park replaced the chinking between the exterior logs, reglazed windows, and painted the exterior trim.
Features & Amenities
Despite its name, this waterfront cabin is actually situated on Farm Lake. The one room, open concept log cabin is nestled among mature White Pine and has a southerly exposure with a very scenic view. Fishing opportunities include Smallmouth Bass, Pike, and Lake Trout in surrounding lakes such as Shall, Crotch, Farm, Kitty, Booth, and Bridle Lake.
All cabins have fire extinguishers, wash basin, metal pail, shovel, broom, dust pan, bunks (no mattresses), CSA-approved wood-burning stove and chimney, stove operating instructions, heat shields behind and under the stove, table and chairs, and an outside closed-in toilet.
Cabins are not equipped with any dishes, or pots and pans.
Smoking is prohibited in rustic Ranger Cabins.
Pets are prohibited.
No running water, indoor bathrooms, or electricity is available
Location & Access
Access Point Office
Further Information
---
Related Information
Reserve your developed or backcountry campsite for your next visit.
Share your passion for Algonquin Park by becoming a member or donor.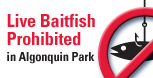 Special regulations for Algonquin's special fishery.