Kiosk Ranger Cabin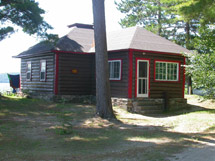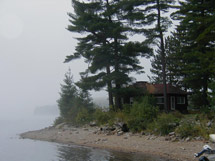 History
In 1927, $90 was allocated to construct the original Kiosk cabin at a location north of the CNR tracks as headquarters for the rangers on this patrol. Previously fire rangers used the old J. R. Booth depot building; however the company had plans to re-open it that year. The actual cost of completing the 16' x 20' cabin was $84.76.
In 1933 the original cabin was rented to CNR for $10/month; no beds or stove included. In the fall of 1933, the Ontario Forestry Branch sold the cabin to a CN employee with the condition that it be moved. Sandy Gage, in his book, A Few Rustic Huts, states that in 1936 the present cabin was built at its current location on Kioshkokwi Lake. The kitchen was added in 1940 and hydro was installed in 1956 by the Hydro Electric Power Commission of Ontario.
Features & Amenities
Today this two bedroom water front log cabin, [34'x 21'], with a southwestern exposure is located under mature White Pine trees. The kitchen and living quarters are an open concept. The cabin is equipped with a couch; table and chairs; electric fridge, stove and heat; running potable cold water; coffee-maker; electric kettle and toaster; and outdoor fire pit. Two flushomatic toilets are within a reasonable walking distance. There is a beach and a boat launch. Kioshkokwi Lake is a large lake with a healthy population of Lake Trout. Outboard motors are limited to 20 horsepower (hp) on this lake. The nearby Amable du Fond River has good Brook Trout fishing. The cool breeze of the lake makes it a very comfortable place to be on hot summer days.
The cabin has a fire extinguisher, wash basin, broom, dust pan, and bunks.
The cabin is not equipped with any dishes, or pots and pans.
Smoking is prohibited in rustic Ranger Cabins.
Pets are prohibited.
Location & Access
Permit Pick-up Location
Kioshkokwi Lake – Kiosk Access Point
Nearby Attractions
Further Information
---
Related Information
Reserve your developed or backcountry campsite for your next visit.
Share your passion for Algonquin Park by becoming a member or donor.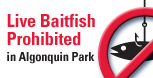 Special regulations for Algonquin's special fishery.