Crooked Chute Ranger Cabin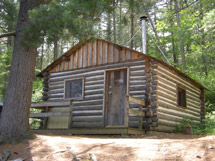 History
A budget request of $50 was approved in 1927 to build this cabin. Justification given was "shelter of rangers from five patrols which meet at this point. At present these rangers, when on road improvements and covering the Petawawa log drive must carry their tents." Also, "the location is the centre of the most valuable stands of young pine in the district".
For some reason, construction was delayed until 1928, when logs were cut locally and skidded by horse to the prepared site. Walls were erected by fall of that year and left to season. Lumber was scrounged next spring "from an old lumber depot a few miles distant" and flooring material and windows were brought in. The cabin was completed on July 26, 1929 at a final cost of $33.97.
A 25 acre reserve was established around the new cabin within the young pine stand "to avoid an accumulation of slash around this camp". The cabin saw quite a bit of use over the years and required little formal maintenance, but by 1991 the roof had collapsed on the north side and the bottom logs had deteriorated considerably.
Remedial repairs were made to the roof by several directors of The Friends of Algonquin Park in 1992/93 but in 1997 it was decided to salvage the original building and replace it with a modified replica using logs donated by the Shaw Lumber Co. of Pembroke and with the assistance of the Algonquin Forestry Authority.
Features & Amenities
All cabins have fire extinguishers, wash basin, metal pail, shovel, broom, dust pan, bunks (no mattresses), CSA-approved wood-burning stove and chimney, stove operating instructions, heat shields behind and under the stove, table and chairs, and an outside closed-in toilet.
Cabins are not equipped with any dishes, or pots and pans.
Smoking is prohibited in rustic Ranger Cabins.
Pets are prohibited.
No running water, indoor bathrooms, or electricity is available
Location & Access
Backcountry canoe access only. No vehicle access.
The Crooked Chute cabin is situated adjacent to the Petawawa River, a whitewater river requiring specialized equipment and training to safely navigate. Access is a day's paddle downstream from the Lake Travers Access Point. The cabin is nestled under a canopy of pine trees at the base of Crooked Chute overlooking a slower moving widening of the river.
Consult the Algonquin Park Canoe Routes Map and Petawawa River Whitewater Guide for detailed directions.
Closest Access Point
Closest Access Point Office
Further Information
---
Related Information
Reserve your developed or backcountry campsite for your next visit.
Share your passion for Algonquin Park by becoming a member or donor.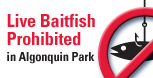 Special regulations for Algonquin's special fishery.