Bissett Road Ranger Cabin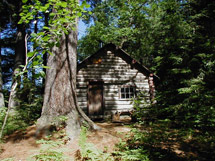 History
This cabin was built in 1922 by the first District Forester for the Ontario Department of Lands and Forests in Pembroke District as a moose hunting camp. He had Ontario Forestry Branch employees erect the cabin and a small adjacent stable. Three years later when the Park boundary was surveyed it was discovered that the cabin was within the Park's boundaries. The hunting party continued to use it as a base camp for hunting outside the Park. A special permit was issued allowing hunters to transport their guns between the cabin and the Park boundary. During construction of this building, access was by horse and wagon using the portage road built from Bissett to Radiant Lake. This road was also used to supply construction workers to the National Research Center at Lake Travers.
Park rangers occupied the Twelve Mile Cabin, named for the distance from Bissett Creek, after the hunt club stopped using it. The cabin roof was re-sheeted with lumber and aluminum in 1951. It was used by rangers on patrol until the late 1950s and fell into disuse when routine patrols were discontinued.
Features & Amenities
This one-room log cabin is nestled among mature White Pine trees about one kilometre inside the Park boundary off the Bissett Road. Cabin users will encounter noise during weekdays from logging trucks using the Bissett Road which serves also as a forest access road. Situated on a beaver meadow, the cabin has a western exposure. Although not located on water, it can be used as a base camp for wildlife viewing, and Brook Trout fishing at North Rouge and Big Bissett lakes.
All cabins have fire extinguishers, wash basin, metal pail, shovel, broom, dust pan, bunks (no mattresses), CSA-approved wood-burning stove and chimney, stove operating instructions, heat shields behind and under the stove, table and chairs, and an outside closed-in toilet.
Cabins are not equipped with any dishes, or pots and pans.
Smoking is prohibited in rustic Ranger Cabins.
Pets are prohibited.
No running water, indoor bathrooms, or electricity is available
Location & Access
Closest Access Point
Further Information
---
Related Information
Reserve your developed or backcountry campsite for your next visit.
Share your passion for Algonquin Park by becoming a member or donor.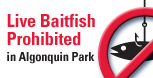 Special regulations for Algonquin's special fishery.