Birchcliffe Ranger Cabin

History
This cabin was built in 1962 to accommodate the towerman for Osler Township Fire Lookout Tower. The fire tower was erected the same year, on a hill with a ten mile visibility circle and within a fifteen mile circle of high incidence of lightning fires. The lake was chosen because it had road access, and planes could land on it. The old fire tower location is a long uphill two-mile walk from the cabin. Both the cabin and the tower were built by ranger labour at a cost of $2900 for the cabin and $2800 for the tower. The fire tower detection program was discontinued in the early 1970s. Since then it has been used by Interior maintenance crews along with the general public. Several directors of The Friends of Algonquin Park volunteered their time in 1994 to carry out major repairs to the cabin.
Features & Amenities
This waterfront, log-sided, 16' x 20' cabin has an open-concept kitchen and dining area, two small bedrooms (one bedroom with a set of single bunks, and a second with a double and single bunk; no mattresses), and a table and benches. Brook Trout fishing is good in Birchcliffe Lake and is equally as good in Calm Lake which is a one-hour walk on the portage from the cabin.
All cabins have fire extinguishers, wash basin, metal pail, shovel, broom, dust pan, bunks (no mattresses), CSA-approved wood-burning stove and chimney, stove operating instructions, heat shields behind and under the stove, table and chairs, and an outside closed-in toilet.
Cabins are not equipped with any dishes, or pots and pans.
Smoking is prohibited in rustic Ranger Cabins.
Pets are prohibited.
No running water, indoor bathrooms, or electricity is available
Location & Access
Backcountry canoe access only. No vehicle access.
Located on the south shore of Birchcliffe Lake, and surrounded by pine and tolerant hardwoods, this cabin is accessible by canoe only from Kawawaymog Lake Access Point and Kioshkokwi Lake – Kiosk Access Point. Plan on two days of canoeing to reach it, and be prepared to camp for at least one night in the Interior when travelling both to and from the cabin (separate permits required). Note also, in low water conditions, Birchcliffe Creek becomes difficult to navigate by canoe.
Consult the Algonquin Park Canoe Routes Map for detailed directions.
Closest Access Point
Further Information
---
Related Information
Reserve your developed or backcountry campsite for your next visit.
Share your passion for Algonquin Park by becoming a member or donor.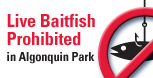 Special regulations for Algonquin's special fishery.