January 1, 2017
Christmas Bird Count Results 2016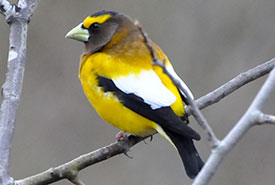 Male Evening Grosbeak in Algonquin Park
The 43rd Algonquin Park Christmas Bird Count (CBC) was held on Thursday, December 30, 2016. The weather was mostly cloudy, with occasional light flurries. A wind out of the northwest with gusts from 20 to 35 kilometres per hour probably inhibited observer ability to hear birds such as woodpeckers, creepers and kinglets. Temperatures ranged from -8°C in the pre-dawn to -11°C in late afternoon, making it more comfortable than many previous counts. A maximum of about 30 centimetres of snow on the ground made the use of snowshoes and skis helpful.
Overall Results
Total Observers 76

Total Species 25 (average is 27)

Total Individuals 2,734 (average is 4,576)

Birds per Party Hour 14 (average is 25)
New Species for the Count
Count Week Species
Notable Miss
Barred Owl (not found only once before in 42 previous counts).
Winter Finches
Pine Grosbeak 39
Red Crossbill 214

Red Crossbills were noted getting seeds from Black Spruce and Eastern Hemlock cones. At least two call types were thought to be present on the count.


White-winged Crossbill 466

Common Redpoll 59

Pine Siskin 6

American Goldfinch 73

Evening Grosbeak 284

About 175 of the Evening Grosbeaks were at the Visitor Centre feeders.
All Species Observed on the 2016 Algonquin Park CBC
Northern Goshawk 1

Wild Turkey 2

Ruffed Grouse 38

Spruce Grouse 3

Downy Woodpecker 20

Hairy Woodpecker 42

Black-backed Woodpecker 2

Pileated Woodpecker 12

Northern Shrike 2

Gray Jay 22

Blue Jay 170

Common Raven 95

Black-capped Chickadee 978

Boreal Chickadee 6

Red-breasted Nuthatch 126

White-breasted Nuthatch 30

Brown Creeper 2

Golden-crowned Kinglet 8

Snow Bunting (Count Week)

Red-winged Blackbird (Count Week)

Pine Grosbeak 39

Red Crossbill 214

White-winged Crossbill 466

Common Redpoll 59

Pine Siskin 6

American Goldfinch 73

Evening Grosbeak 284
Woodpecker sp. 4

Crossbill sp. 2

Finch sp. 28


Total Number of Species 25

Total Number of Individuals 2,734


Number of Observers 76

Number of Hours - Driving 21.4

Number of Hours - Walking 174.8

Number of Hours - Owling 0.5

Total Party Hours 196.2

Number of Kilometres - Driving 474.0

Number of Kilometres - Walking 205.0

Number of Kilometres - Owling 8.0

Total Distance (km) 687.0

Birds Per Party Hour 14.0
Thanks to all the participants and those who helped organize and undertake the count this year.

Ron Tozer
Algonquin Park CBC Compiler
---
Additional Bird Sightings
Please send us any bird sightings you've had in the park, even of common birds, as they assist us in documenting Algonquin Park's bird life.
Birders reporting records through eBird are encouraged to share their lists with the Algonquin Park Bird Records account (APPbirds).
---
Christmas Bird Count Circle in Algonquin Park
Bird count volunteers follow specified routes through a designated 24 kilometre diameter circle (shown below) and count every bird they see or hear with a 24 hour period. This provides an early winter bird census for Algonquin Park and combines with data from other counts in Canada, the United States, and many other countries. In Algonquin Park, the 24 kilometre circle is centred on the intersection of the Rock Lake Road and Highway 60.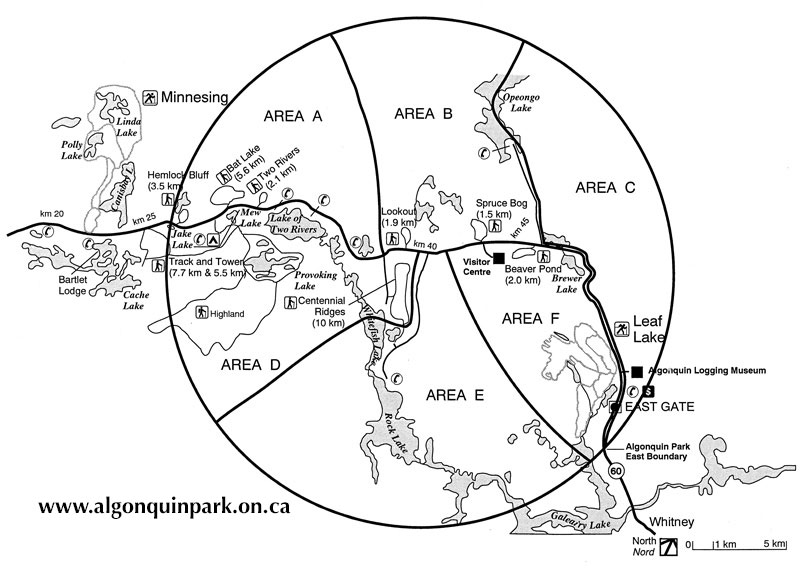 ---
What is the Christmas Bird Count?
The Christmas Bird Count (CBC) is a long-standing program of the National Audubon Society, with over 100 years of citizen science involvement. It is an early-winter bird census, where thousands of volunteers across the US, Canada and many countries in the Western Hemisphere, go out over a 24 hour period to count birds.
How is the Christmas Bird Count conducted?
Count volunteers follow specified routes through a designated 24 kilometre diameter circle, counting every bird they see or hear all day. It's not just a species tally—all birds are counted all day, giving an indication of the total number of birds in the circle that day. If observers live within a CBC circle, they may arrange in advance to count the birds at their feeders and submit those data to their compiler. All individual CBC's are conducted in the period from December 14 to January 5 (inclusive dates) each season, and each count is conducted in one calendar day.
Why was the Christmas Bird Count started?
The first CBC was done on Christmas Day of 1900 as an alternative activity to an event called the "side hunt" where people chose sides, then went out and shot as many birds as they could. The group that came in with the largest number of dead birds won the event. Frank Chapman, a famed ornithologist at the American Museum of Natural History and the editor of Bird-Lore (which became the publication of the National Association of Audubon Societies when that organization formed in 1905) recognized that declining bird populations could not withstand wanton over-hunting, and proposed to count birds on Christmas Day rather than shoot them.
Is the Christmas Bird Count useful?
Absolutely. The data collected by observers over the past century allow researchers, conservation biologists, and interested individuals to study the long-term health and status of bird populations across North America.
---
Related Information
Reserve your developed or backcountry campsite for your next visit.
Share your passion for Algonquin Park by becoming a member or donor.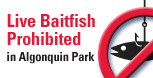 Special regulations for Algonquin's special fishery.