Updated:
Algonquin Park Ice Conditions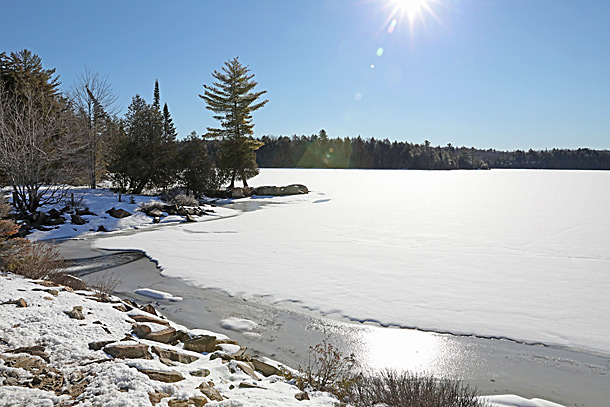 Image: Fisherman's Point at Smoke Lake in Algonquin Park on April 16, 2019 (click to enlarge). All lakes in Algonquin Park remain ice covered.
---
Current Conditions in Algonquin Park
Rainfall Warning Issued for Algonquin Park — Environment Canada has issued a Rainfall Warning for Algonquin Park with 50 to 80mm of rain possible by Saturday. With significant snow persisting on frozen ground, Ontario Parks has issued a Flood Outlook Safety Bulletin for Algonquin Park informing visitors to avoid moving water, shorelines, and ice covered waterbodies.
Visitors hoping to paddle the open waters of Algonquin Park's lakes for the opening of trout fishing season on April 27, 2019 may be disappointed this year. Winter-like conditions persist in Algonquin Park, but strong spring sunshine and warmer temperatures are helping to reduce the snow depth in Algonquin Park. Snow depth ranges from almost bare ground on south facing slopes exposed to strong spring sunshine to more than 60 centimetres of snow on the ground on some colder north-facing slopes.
All lakes in Algonquin Park remain ice covered with bare ice just becoming recently visible as snow melts from the ice surface. Reports from early April indicate 60 to 80 centimetres of ice on Algonquin Park's lakes. Beaver ponds are still ice covered but some are showing open water at inflow and outflow areas, providing the first refuge for migrating waterfowl. Fast moving rivers and creeks are generally ice free, with higher water volumes from recent melting snow and rain. Visitors should avoid high water levels during the spring as cold water can be deadly.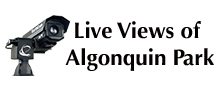 Current conditions in Algonquin Park are not unusual for this time in April. The high elevation area of the Canadian Shield known as the Algonquin Dome on which Algonquin Park is located results a later ice out than surrounding areas, typically occurring in late April or early May. Over the past 50+ years, the average ice out date for Lake Opeongo, Algonquin's largest lake, is April 28. Given variations in winter and spring conditions, the ice out dates for Lake Opeongo have ranged from March 29 (2012) to as late as May 15 (1972). During 2018, ice out was recorded on May 10.
Early spring anglers and canoe trippers should know that on November 29, 2018, Ontario Parks announced changes to spring reservations in Algonquin Park. Only first-come, first-served camping opportunities are available until May 3, 2019 (see below for details).
Stay tuned to this webpage for updated Algonquin Park conditions and images. For live views of Algonquin Park including the ice of Fork Lake visible from the Visitor Centre see the Algonquin Park Webcam. Snow depth and weather conditions are recorded hourly at the East Gate available on the Algonquin Park Weather webpage. For the latest closures and restrictions see Algonquin Park Advisories.
Please remember that The Friends of Algonquin Park advises against ice travel due to a range of environmental variables and the difficulty in detecting hazards. Be safe, stay off the ice. Park visitors are encouraged to stay away from fast moving and icy cold water at this time of year.
---
Ontario Parks Update to Spring Reservations in Algonquin Park
Issued: November 29, 2018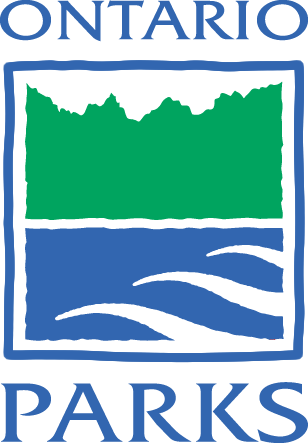 "Over the past 5 years, inaccessible roads and unsafe ice conditions in many locations have delayed the spring backcountry reservations and the opening of some campground locations within Algonquin [Park]. This traditional weekend date has coincided with the spring opening date of the trout fishing season in Algonquin [Park], which has motivated many users to access the backcountry. In response to persistent late winter conditions, Ontario Parks has modified the reservation window for backcountry camping and hiking as well as some campgrounds for spring 2019.

Reservations can be made up to five months in advance for arrival dates starting with the first Friday in May (May 3 in 2019), rather than the fourth Friday in April.
If conditions permit, we will allow access to the backcountry and select campgrounds for April 26, 2019, on a first come, first-served basis. In some locations, the backcountry may be accessed as a day-use area once trout season opens.

This change to our reservation will impact the following backcountry and campground locations:

If you have comments, questions or concerns, you may send them directly to Ontario Parks."
---
Recent Algonquin Park Images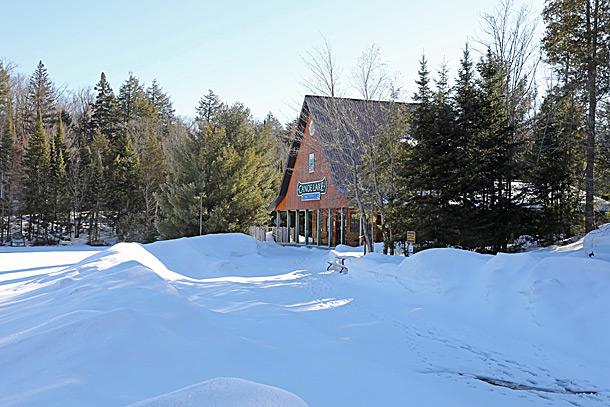 Image: Canoe Lake Access Point Office in Algonquin Park on April 16, 2019 (click to enlarge).
A selection of recent images from Algonquin Park. See the caption for the date and location. More images are available on The Friends of Algonquin Park Facebook Page.
See more images on The Friends of Algonquin Park Facebook Page.
---
Algonquin Park Ice Out History
Technically, the official ice out date for Algonquin Park is recorded when at boat can safely navigate from the Lake Opeongo Access Point to the Happy Isle Portage in the North Arm of Lake Opeongo. Ice out for Algonquin Park's largest lake, Lake Opeongo, has ranged from as early as March 29 (2012) to as late as May 15 (1972). The current average ice out date is April 28 (1964 to 2016), shown by the dotted trend line below. The official ice out date for Lake Opeongo in 2015 and again in 2016 was May 1. The ice out date for Lake Opeongo in 2018 was May 10.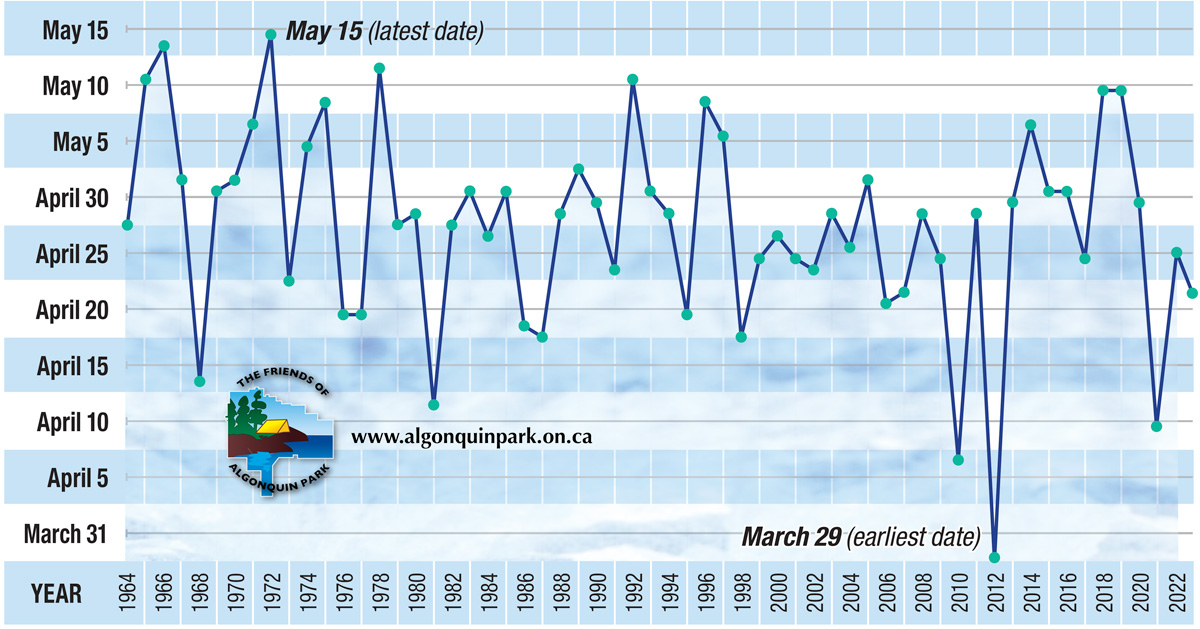 ---
Latest Satellite Imagery
Below is satellite imagery of the Algonquin Park area. Imagery is taken on a regular basis with the best images recorded on completely clear days, which can be infrequent during late winter/spring. Images are posted to highlight the overall changes in ice conditions in south-central Ontario.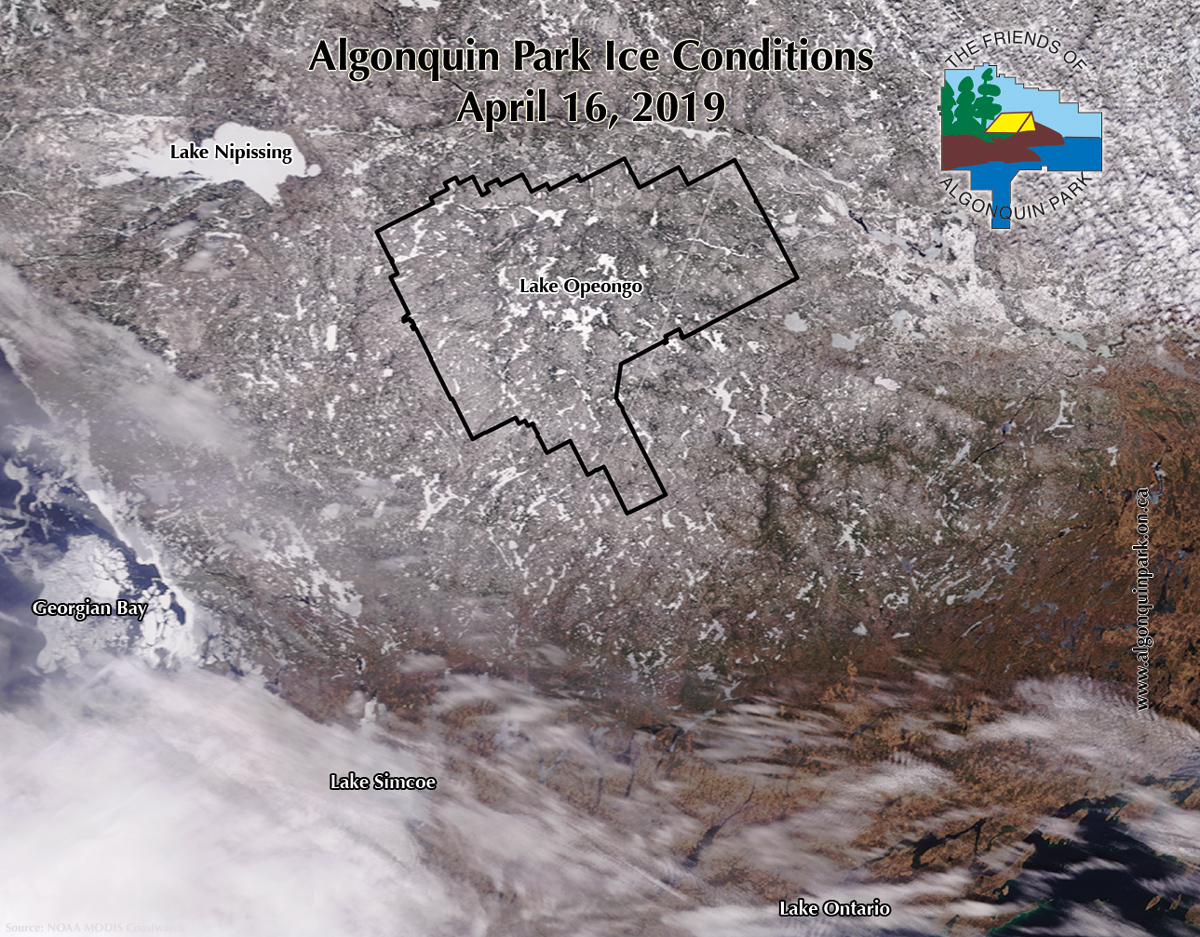 Image above: Satellite image from April 16, 2019 showing lakes in Algonquin Park (and central Ontario) completely ice covered. Bare ground and deteriorating ice quality is observed in southern Ontario (click to enlarge).
---
Satellite Image Comparison
Below are satellite images of the Algonquin Park area from recent years for comparison purposes. Official ice out dates for Lake Opeongo (Algonquin Park's largest lake and traditionally one of the last to shed its ice cover) are listed with each image.
---
Related Information
Reserve your developed or backcountry campsite for your next visit.
Share your passion for Algonquin Park by becoming a member or donor.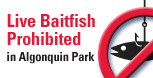 Special regulations for Algonquin's special fishery.