June 11, 2012
Tom Thomson's First Algonquin Park Visit - May 1912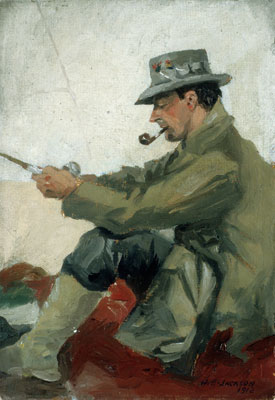 Tom Thomson Rainy Day in Camp - By H.B. Jackson at Tea Lake Dam, Algonquin Park, May 1912.
One hundred years ago, Tom Thomson stepped off the train at the Joe Lake Station and began a five year love affair with Algonquin Park before his premature death in July 1917 at Canoe Lake. Until recently, the exact date and details of Thomson's first camping trip were unknown. Rarely would someone's first trip to Algonquin Park get noted, but remarkably during 1912, Thomson's visit was recorded by at least two individuals. Recent detective work by historian Rory MacKay, spurred on by The Friends of Algonquin Park, has uncovered some interesting developments about Tom Thomson's first trip to Algonquin Park. Below is a chronology from various archival sources detailing Tom Thomson's first trip to Algonquin Park during May 1912.
Chronology
Saturday, May 18, 1912
Excepts from the diary of Park Ranger Bud Callighen
"Got storm… Got dried out and came to our S.H. (Shelter Hut or Ranger Cabin as they are known today) at the (Park's south-west) corner. Blew a hurricane from the west and poured rain all (afternoon). Raining tonight.
From the diary of Park Ranger Mark Robinson
"Went to (Burnt) Island Lake then up (Linda) Creek to forks then down Alder Creek to lake. Then portaged into Birdie Lake then into (Burnt) Island Lake. Found game plentiful. No trace of poaching. Had lunch at (Burnt) Island Lake Shelter House (Ranger Cabin) and returned to Joe Lake. Met the MacLaren party and T. Thompson (Thomson) party at evening train."
Sunday, May 19, 2012
Park Ranger Bud Callighen's diary entry
"Left (Shelter Hut) at corner of Park at 9:20 AM. At first falls (Split Rock Rapids on the Oxtongue River) at 10:23, left there 10:55. At Twins (Twin Falls) 11:05, left there 11:30, at (Fen Lake Shelter Hut) 12:10. Fred May and Mr. Scott passed here this afternoon on their way to Huntsville. Quite cool today looks like rain again tonight."

Monday, May 20, 1912
Park Ranger Bud Callighen's diary entry
"Left camp this morning 8:45am and got to Smoke Lake (Ranger) Cabin at 12 o'clock. Found it hard paddling up the river from Whisky Falls (Whiskey Rapids) to Tea Lake. Very hard. Two men camped at Smoke Lake Dam (Tea Lake Dam) from Joe Lake. Rained last night + all day + cold. Went out for mail this AM."
Details of Thomson's First Algonquin Visit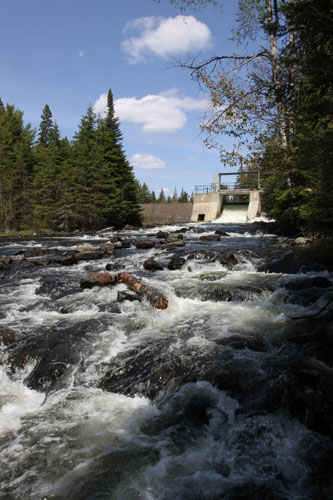 Tea Lake Dam and the Oxtongue River, 100 Years After Tom Thomson's Arrival (May, 2012)
On Tom Thomson's first trip to Algonquin Park with H.B. Jackson, both men encountered two Park Rangers. Mark Robinson first met Tom Thomson at the train at the Joe Lake Station on the Saturday evening after a day of patrolling the Burnt Island Lake area. Ranger Bud Callighen, met individuals meeting the description of Thomson and Jackson who were reported camped near today's Tea Lake Dam. The men Callighen encountered were not named in his diary, but it is widely know that Thomson and Jackson camped at the easily accessible Tea Lake Dam area a short paddle south-west of Canoe Lake. Another thought of why Callighen noted "two men camped at (Tea Lake Dam)" was because most individuals in 1912 were accompanied by a local guide during this period. Thomson and Jackson did not hire a guide but rather headed out into Algonquin Park alone. A few months later, Jackson would write about the experience of camping without a guide in the Editorial Section of The Toronto Sunday World on August 11, 1912 (see below).
A portion of Jackson's editorial states "This is a plea for the campers who go out in the woods alone, prepared to pack their own duffle and canoes, do their own cooking, get their own fish and find their own way. Guides may be alright, but with them the canoe cruiser leads a sort of lazy existence and he doesn't get the most enjoyment and the most good of his trip. "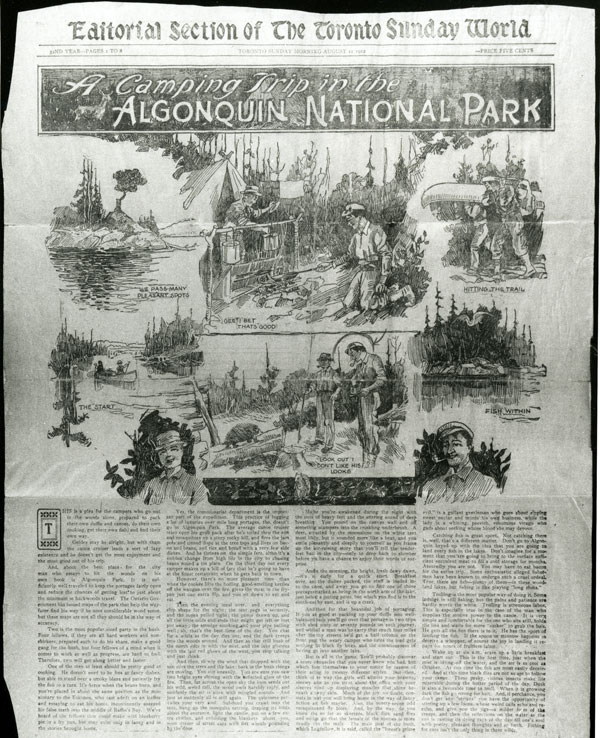 Read a transcript of the whole article "A Camping Trip in Algonquin National Park" August 1912.
Despite a rainy trip without a guide to help these first time Algonquin campers, Tom Thomson would return for many longer visits from 1913 to 1917. This included trips to the Park's north and east sides, but the Canoe Lake area was his most frequent and final visit location.
Special Thanks
Thanks to Rory MacKay, the Algonquin Park Archives, the National Gallery of Canada and Trent University Archives for assistance. "Rainy Day at Camp" and newspaper article are courtesy of the National Gallery of Canada.
---
Related Information
Reserve your developed or backcountry campsite for your next visit.
Share your passion for Algonquin Park by becoming a member or donor.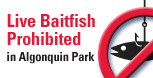 Special regulations for Algonquin's special fishery.