Issued: November 22, 2015
Winners of the 2015 Fundraising Raffle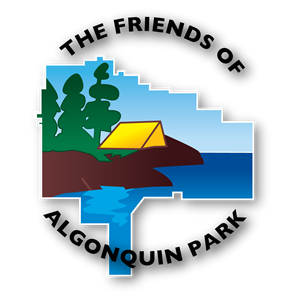 Results from The Friends of Algonquin Park's 2015 Fundraising Raffle draw held at the Algonquin Park Visitor Centre on Sunday, November 22, 2015 at 1:00pm. Congratulations to all the winners and our sincere thanks to all partners, ticket sellers, and ticket buyers!
Would your business like to gain exposure with Algonquin Park visitors?
If yes, consider donating a prize for the 2016 Friends of Algonquin Park Fundraising Raffle. We are currently looking for raffle prize sponsors. Please call Andrea Ruzzo at 613 637-2828 extension 236 for more information.
The Friends of Algonquin Park 2015 Raffle Results

Prize Package

Ticket Number

Winner

Location

3446
J. Johnson
Toronto, ON
0222
J. Tamlin
Brighton, ON
0670
L. Villemaire
Cambridge, ON
3538
J. Coulas
Barry's Bay, ON
2543
D. Currie
Stayner, ON
0355
B. Heard
Oshawa, ON
1057
J. & L. Secord
Toronto, ON
1465
B. Charron
Ottawa, ON
9
3053
T. Field
Peterborough, ON
10
1447
A. Paleshi
Kitchener, ON
11
1312
W. Measor
Maynooth, ON
12
0322
R. Bridges
Tiny, ON
Click the image below to review all the prize packages. A special thanks to the Raffle Partners listed below. All proceeds benefit the charitable work of The Friends of Algonquin Park in our support of Algonquin Park. Licence #7249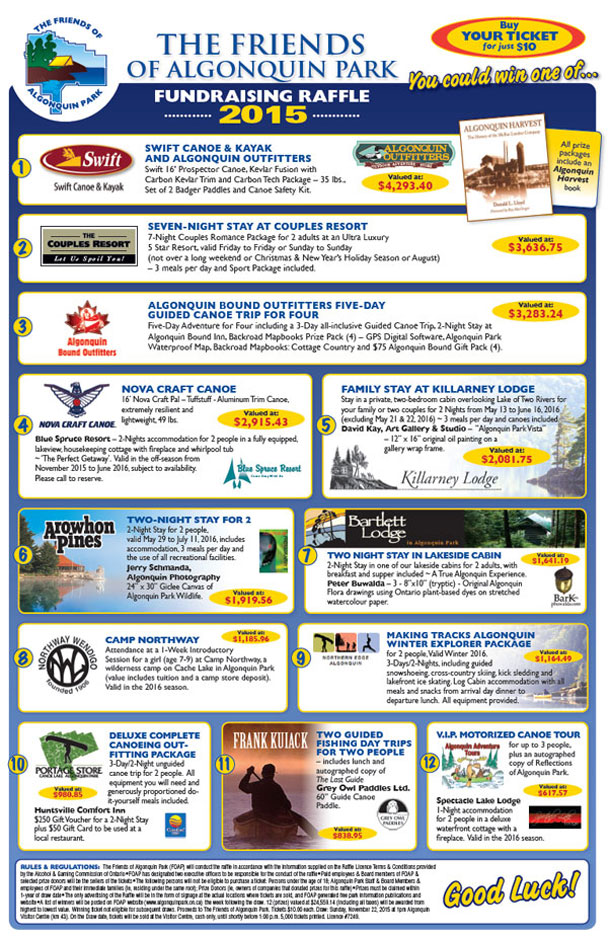 ---
Related Information
Reserve your developed or backcountry campsite for your next visit.
Share your passion for Algonquin Park by becoming a member or donor.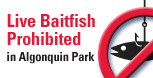 Special regulations for Algonquin's special fishery.