January 31, 2014
Wanted: 2014 Fundraising Raffle Prize Sponsors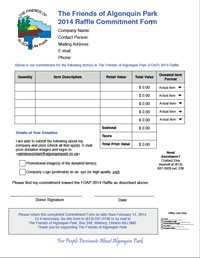 The Friends of Algonquin Park are in search of prizes for this year's fundraising raffle in support of Algonquin Park. Businesses are encouraged to donate goods or services that showcase Algonquin Park, facilitate access to the Park, or are provided or utilized in the Park. If you are interested in donating a 2014 raffle prize please contact Elva Bennett at 613 637-2828 ext. 236 or download and submit a 2014 Raffle Commitment Form.
Potentially reach hundreds of thousands of Algonquin Park visitors through promotion of your brand and prize in the Algonquin Park Information Guide, The Friends of Algonquin Park Website, Algonquin Visitor Centre, Algonquin Logging Museum, and more.

We sincerely appreciate all who may be interested in supporting The Friends of Algonquin Park in our fundraising efforts, however, we reserve the right to respectfully decline prizes that do not meet our raffle policy or Alcohol and Gaming Commission of Ontario regulations.
---
November 24, 2013
Winners of the 2013 Fundraising Raffle
Official results from the draw at the Algonquin Visitor Centre on Sunday, November 24, 2013 at 1:00pm. Congratulations to all the winners and our sincere thanks to all partners, ticket sellers, and ticket buyers! Proceeds from this raffle support the non-profit, charitable work of The Friends of Algonquin Park.
Would your business like to gain exposure with Algonquin Park visitors?
If yes, consider donating a prize for the 2014 Friends of Algonquin Park Fundraising Raffle. We are currently looking for raffle prize sponsors. Call Elva Bennett at 613 637-2828, extension 236 for more details.
The Friends of Algonquin Park 2013 Raffle Results

Prize Package

Ticket Number

Winner

Location

1238
W. Chin
London, ON
3047
M. Park
Bloomfield, ON
1971
M. Johnson
Oshawa, ON
0976
D. Wight
Waterloo, ON
2869
D. Rumley
Toronto, ON
2367
C. McMullin
Hillier, ON
0112
D. Colston
Seagrave, ON
1886
S. Hill
Markdale, ON
Licence #5634
9
1597
D. Harris
Toronto, ON
10
3209
P. Kenneth
Columbus, OH
11
2967
M. Saito
Caledon, ON
12
2811
E. Barton
Columbus, NC
---
Related Information
Reserve your developed or backcountry campsite for your next visit.
Share your passion for Algonquin Park by becoming a member or donor.
Thanks to our 2013 Raffle Partners.