The Friends of Algonquin Park Fundraising Raffle
November 23, 2014
Winners of the 2014 Fundraising Raffle
Official results from The Friends of Algonquin Park's 2014 Fundraising Raffle draw held at the Algonquin Visitor Centre on Sunday, November 23, 2014 at 1:00pm. Congratulations to all the winners and our sincere thanks to all partners, ticket sellers, and ticket buyers!
The Friends of Algonquin Park 2014 Raffle Results

Prize Package

Ticket Number

Winner

Location

1690
B. Snyder
Kingsville, ON
0124
L. & B. Burford
Stratford, ON
0677
T. Ziltener
Mitchell, ON
2429
E. Binnie
Greely, ON
0521
B. Jones
Uxbridge, ON
0144
T. O'Neill
Wasaga Beach, ON
0067
M. Alderson
Brantford, ON
2168
W. Wong
Richmond Hill, ON
Licence #6490
9
2125
H. Kronenburg
Trenton, ON
10
1798
S. Pomper
Toronto, ON
11
2065
M. & D. Schmidt
Caledonia, ON
12
1652
J. Butler
Mississauga, ON
---
Related Information
Reserve your developed or backcountry campsite for your next visit.
Share your passion for Algonquin Park by becoming a member or donor.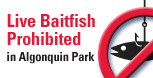 Special regulations for Algonquin's special fishery.