Endowment
What is an Endowment?
When you create a charitable fund through The Friends of Algonquin Park, you have the opportunity to benefit Algonquin Park now - and forever - with a permanent gift. Your gift is invested over time. Earnings from your fund are used to enhance the educational and interpretive programs. Your gift — and all future earnings from your gift - is a permanent source of capital, helping do good work today and in the future.
Legacy and Stability
Donors who endow their gifts can make a difference in Algonquin Park during their lifetime and, at the same time, provide a gift that lasts forever. Gifts will continue to be made in the name of the fund you establish so that your charitable wishes are preserved.
More Information
To discuss an endowment, please contact:
Fundraising Administrator
The Friends of Algonquin Park
Box 248
Whitney, Ontario K0J 2M0
Phone: (613) 637-2828 ext. 239
Fax: (613) 637-2138
E-mail
---
Related Information
Reserve your developed or backcountry campsite for your next visit.
Share your passion for Algonquin Park by becoming a member or donor.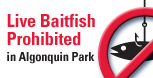 Special regulations for Algonquin's special fishery.