Summer Interpretive Program
Guided Walks
Join Park Naturalists for a leisurely 1.5 to 2 hour walk and explore and learn about the Algonquin environment. Some of these walks centre around a common theme, such as birds, wildflowers, mushrooms or logging history, while others concentrate on more general topics such as forest ecology or animal signs. Guided walks are held daily from late June to the Labour Day Weekend in early September.
Algonquin for Kids
Come with your children (ages 5 to 12) to the Visitor Centre for special, regularly scheduled, programs. Together you will have a great time learning about Algonquin through an hour of discovery with games, stories and animals.
Evening Programs
As the sun sets over the hills and the quiet Algonquin evening descends, the Outdoor Theatre is the place to head if you're looking for a different kind of Park experience. A wide variety of slide talks are presented at the Park's Outdoor Theatre throughout the summer months, ranging in topics from Black Bears to canoeing in Algonquin to the famous Canadian landscape artist Tom Thomson.
Public Wolf Howls
Algonquin Park is famous for its Public Wolf Howls. Meet at the Outdoor Theatre to learn about wolves through a presentation on wolf ecology and our changing perceptions of this elusive animal. Then, wolves and weather permitting, we travel by car to a place along Highway 60 where wild wolves may answer the imitations given by the Naturalist staff.
Check the Events Calendar for upcoming programs.
---
Related Information
Reserve your developed or backcountry campsite for your next visit.
Share your passion for Algonquin Park by becoming a member or donor.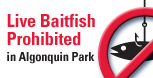 Special regulations for Algonquin's special fishery.