Bartlett Lodge
Description
A short boat ride in our motorized freighter canoe takes you to Algonquin Park's smallest, most historic resort, Bartlett Lodge. Located on Cache Lake, we are Algonquin Park's Award Winning Resort having won the Ontario award for Sustainable Tourism in 2009. Bartlett Lodge has over seventy solar electric panels on site, a log cabin for guests that is completely off grid (see the cabin interior image above) and two solar thermal hot water systems.

We offer three types of accommodation including our lakeside cottages or log cabins, our deluxe platform tents and the Artists Studios, which are unique guest rooms in a newly erected building made from 110 year old logs. Bartlett Lodge also enjoys an unsurpassed reputation for its cuisine. Our deluxe breakfast and not to be missed five course dinner are enjoyed by both our in house guests and park visitors alike. Visit us for dinner or spend a night or two – it doesn't get any better than this!
Bartlett Lodge is operated under a commercial lease agreement with Ontario Parks.
Operating Dates
May 9 to October 19, 2014

Breakfast 8:00am - 9:30am daily, dinner has 2 seatings, 6:00pm and 8:00 pm. Reservations preferred but not always necessary
Location
Features
Canoes, kayaks, paddle boats, sailboats and mountain bikes are free to all lodge guests

On site Bartlett Lodge hiking trail – "The Moose Trail" (2 km distance)
Dining Room open for breakfast and dinner

70 Solar Panels and guest cottages that are grid tied or off grid with wood heat.

Solar powered Pontoon Boat
Guest Lounge in 100 year old log cabin with display of original Canadian Art
Small weddings, Family Functions and Group Dinner outings are our specialty
Rates and Reservations
Nearby Attractions
Cache Lake Historic Site Exhibit
Contact
Mailing Address

Summer
Bartlett Lodge
P.O. Box #10004
Huntsville, Ontario, Canada
P1H 2G8

Winter
Bartlett Lodge
297 Lakeshore Road East, Suite 2
Oakville, Ontario, Canada
L6J 1J3

---
Related Information
Reserve your developed or backcountry campsite for your next visit.
Share your passion for Algonquin Park by becoming a member or donor.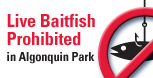 Special regulations for Algonquin's special fishery.