Issued: April 13, 2017 Current as of
Algonquin Park Delayed Spring Openings 2017
Ontario Parks, the government organization responsible for the management of Algonquin Provincial Park, is reporting that the 2017 opening dates for the following areas of Algonquin Park will be delayed until April 28, 2017 (subject to change) due to the late spring arrival:

All backcountry campsites, ranger cabins, portages, and access points

Rock Lake, Tea Lake, Achray, Brent, and Kiosk Campgrounds (Mew Lake Campground is open year-round and developed camping is available)
Most areas of Algonquin Park are still impacted with winter conditions and inaccessible snow covered roads. In addition, most backcountry lakes still have ice on them and these lakes are expected to remain ice covered for at least another couple weeks. Conditions are being monitored and we will be updating this information regularly.
Frequently Asked Questions
What happens if I have a reservation for one of the areas listed above prior to April 28?

Arrangements have been made with the Ontario Parks Reservation Service for all customers holding a reservation with an arrival date up to and including the night of April 27, 2017 to receive a full refund or change their reservation dates without penalty. Ontario Parks Reservation Service staff will be contacting affected reservation holders directly to inform them of this information and to make necessary changes to their reservations.
---
Related Information
Reserve your developed or backcountry campsite for your next visit.
Share your passion for Algonquin Park by becoming a member or donor.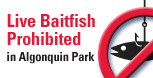 Special regulations for Algonquin's special fishery.